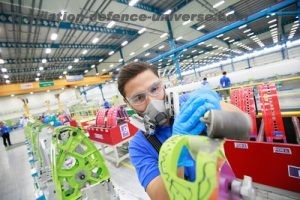 WICHITA. 29 JUNE 2018. Spirit AeroSystems celebrated the expansion of its manufacturing operations in Subang, Malaysia, with the official opening of the site's new logistics warehouse. The 50,000-square-foot facility will accommodate increasing volumes of assembly work on aerostructure components for commercial airliners.
"The new warehouse supports our strategy of growing the Spirit Malaysia business and increasing the capacity and capability of the site and its employees," said Scott McLarty, vice president / general manager, U.K. and Malaysia. "This site is at the epicenter of growth in aerospace, and we expect our presence here to keep pace with the needs of OEMs, airlines and the flying public."
Officially opened by Spirit President and CEO Tom Gentile at an event with invited guests and Spirit employees, the expansion will free up other manufacturing space and improve the site's capacity to rapidly build complex aerostructures for high-rate production programs at competitive cost.
The warehouse is adjacent to other buildings on Spirit's campus in the Malaysia International Aerospace Centre near Kuala Lumpur. The building and its supporting infrastructure have been designed with future expansion in mind, giving the company flexibility to eventually add another 75,000 square feet of warehousing space.