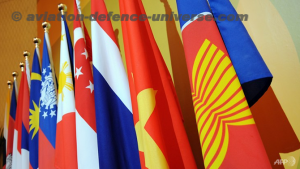 By Suresh Somu
Singapore. 31 July 2018. Size matters in almost every facet of life but it shouldn't be a disadvantage factor in working your way up the ladder.
In the political or geographical analogy, Singapore Minister for Foreign Affairs Dr Vivian Balakrishnan says "Singapore cannot be Asean's leader, but we can be an honest broker between other countries to do good where we can".
He was speaking at the 15th ASEAN Lecture at the ISEAS-Yusof Ishak Institute at NUS when asked of Singapore's role as the 2018 chair of Asean.
Matter of factly, Dr Balakrishnan says: "Singapore is, by land area, the smallest. We are the smallest member of Asean. So we will never be the 'leader' of Asean."
This was in response to an audience question on whether Singapore plans to make any changes to the Asean secretariat in light of its upcoming role as the regional body's chair.
Emphasising Singapore's new-found role, he adds: "Just do good, whether it works best by doing it quietly, which frankly in a nation context, that's often the most effectively. Quietly build trust, act in a way that is consistent with your declared values. And then hopefully by getting ASEAN members into this habit of acting collectively, we build reflexes for the future."
He pledged Singapore will be best as an "honest broker in tackling major challenges and potential crises".
LOOKING FOR SOLUTIONS
"We call it as it is, we don't sugar-coat things and we don't stick our heads in the sand, but at the same time we don't just complain or highlight that there's a problem, we actively look for solutions," he says in an interview with The Straits Times. "And even if we can't have a complete solution, we at least don't make it worse. We try to explore at least some preliminary steps which can improve the situation."
In July 2018, it is announced that Dr Balakrishnan will chair the 51st AMM, 19th ASEAN Plus Three (APT) Foreign Ministers Meeting (FMM), 8th East Asia Summit (EAS) FMM, and 25th ASEAN Regional Forum (ARF), as well as co-chair the ASEAN-China PMC in Singapore's capacity as ASEAN-China country coordinator.
A noteworthy example of Singapore's midget-like influence in the global arena was seen in the June hosting of the Trump-Kim summit meeting in Singapore. The bill was a whopping S$20 million for the summit and now it prepares for its 51st Asean Foreign Ministers' Meeting (AMM).
On a yearly basis, the Asean Foreign Ministers' Meeting (AMM) and related meetings will appraise regional integration and other issues. And this time round, North Korea will also be tabled for discussion. North Korean Foreign Minister Ri Yong will meet his counterparts from Asean after the renewed ties with Washington and North Korea this year.
The European Union's High Representative for Foreign Affairs and Security Policy Federica Mogherini together with US Secretary of State Mike Pompeo, Japanese Foreign Minister Taro Kono and South Korean Foreign Minister Kang Kyung-wha will be in Singapore too.
RESPONSE TO DISASTERS
Dr Vivian will also co-chair the ASEAN China Post-Ministerial Conference with Chinese Foreign Minister Wang Yi, as Singapore is the country coordinator for Asean-China dialogue relations. This will be handed over to Philippines, where progress framework will be observed for the Code of Conduct in the South China Sea.
At the meeting, response to disasters such as the recent dam collapse and flood in Laos and the Rohingya refugees incident will be discussed. The aim is to collectively come up crisis management strategies at a regional level.
Indeed, Singapore is at the driver's seat. Lying at the epicentre of this junction, Singapore is unsurprisingly adamant of the need for a strong yet measured consultation among all claimants, in the interest of promoting a peaceful and consensual resolution.
As Singapore Prime Minister Lee Hsien Loong remarked, it hopes "to enhance Asean's credibility as an effective organisation that can cope with difficult security issues". To that end, Singapore's ongoing commitment to "increase the frequency" of consultations with China to facilitate progress on a Code of Conduct is instructive as to the country's objectives in the year to come.
In the final context, a honest broker, regardless of size.