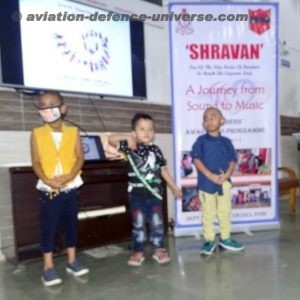 New Delhi. 04 March 2021. Department of ENT, Command Hospital, Southern Command, Pune celebrated the World Hearing Week from 24 February 2021 to 03 March 2021 to commemorate the World Hearing Day at 'SHRAVAN', the only Centre for "Early Intervention & Rehabilitation of Hearing Loss" for entire Southern Command Zone of Indian Army. 'SHRAVAN' is being run as a centre of excellence for providing seamless, organized and effective intervention for the hearing impaired. The centre has rehabilitated over 280 children till date and presently 90 children are undergoing auditory verbal therapy at the centre.
As per the theme for this year "Hearing care for all", a number of activities were conducted over the last one week keeping COVID restrictions and social distancing norms in mind. A "Teachers' Awareness Programme" involving distribution of hand-outs highlighting issues faced by children with hearing impairment in school environment and how to overcome them was undertaken. An online painting competition was conducted on 01 March 2021 wherein over fifty Cochlear Implant recipient children participated and showcased their talent.

The Cochlear Implant team performed Cochlear Implant surgery for two children with Bilateral Congenital Profound Hearing Loss including one with Cochlear Nerve Anomalies during the week. The centre was also instrumental in provisioning upgraded speech processors, to enhance their hearing & communication skills and intends to change lives of these differently abled children by introducing them to the melody of music, and bringing smiles onto the faces of several parents.