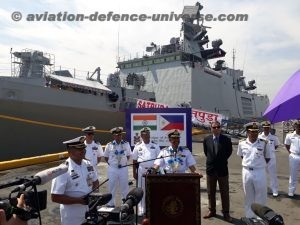 New Delhi. 03 October 2017. Commemorating '25 years of Dialogue Partnership' between India and ASEAN members, Indian Naval Ships Satpura and Kadmatt are on a four-day port visit to Manila, Philippines .  During the ships' stay at Manila, the Commanding Officers will call on several high ranking officers from the Philippines Navy(PN). The ships will play friendly sports fixtures with PN personnel. The ships will also take part in a Passage Exercise (PASSEX) with ships of the PN on their departure from Manila.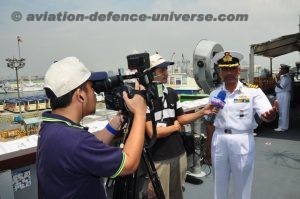 The visit of the Indian Navy's warships will further deepen the existing bonds of friendship between the two countries. Indian warships have visited Philippines every year since 2006.  Built on concrete pillars of mutual trust and the understanding, the budding relations have forayed Into the fields of maritime security, ship building and mutual training exchanges between their navies.  A Defence Cooperation Agreement was signed between both countries in Feb 2006 and a Joint Defence Cooperation Committee established in 2012.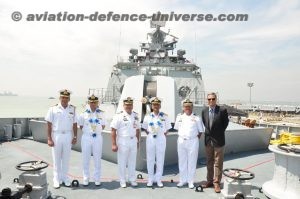 Apart from joint naval exercises between both countries whenever Indian ships visit Philippines, mutual training exchanges for specialisation even at very senior levels and participation of a Philippine Navy delegation in both, the International Fleet Review at Visakhapatnam in Feb 2016 as also the Admiral's Cup, an international regatta conducted by the Indian Navy at the Indian Naval Academy, Ezhimala are evidence of the ever growing relations between the both countries. The Philippines Navy has been invited to participate in the Admiral's Cup once again in 2017. The Indian Naval wrestling team participated in the Junior Asian Wrestling Championship held at Manila in Jun 2016.