Why is Asia such a priority for the US?
China warned to contains its South China Sea march
By Suresh Somu & Sangeeta Saxena
Singapore / New Delhi. 04 June 2016. The clouds of territorial disputes in the South China Sea, North Korea's military provocations and Islamist extremism loomed large as the world's eyes were on the convergence of defence and security representatives of the powers that be, trying to find a solution to the problems faced by and created by the nations of the Asia-Pacific region.
Regional conflicts should be resolved through cooperation. No longer is the world running on gunboat diplomacy, which is generally understood to be motivated by a desire to intimidate potential adversaries. And, since the world lacks the luxury of picking and choosing its adversaries, it should be ready for anything. The region Asia-Pacific while largely safe has the world's most volatile South China Sea and North Korea and bilateral and multilateral ties and disputes which make it the cynosure of western eyes.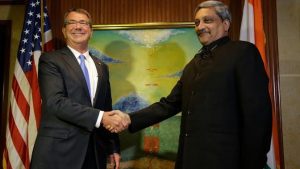 The Shangri-La Dialogues provide an annual venue for ministers, CHODs, and top defence officials to network and expand their defence diplomacy in private, both bilaterally and multilaterally. The International Institute of Strategic Studies ( IISS ), an independent think tank organises the Asia Security Summit: The Shangri-La Dialogue (SLD) which is a "Track One" inter-governmental security forum held annually which is attended by defense ministers, permanent heads of ministries and military chiefs of 28 Asia-Pacific states. The forum gets its name from the Shangri-La Hotel in Singapore where it has been held since 2002. The participants have included Australia, Brunei, Burma, Cambodia, Canada, Chile, France, Germany, India, Indonesia, Japan, Laos, Malaysia, Mongolia, New Zealand, Pakistan, People's Republic of China, Philippines, Russia, South Korea, Sri Lanka, Singapore, Sweden, Thailand, East Timor, United Kingdom, United States and Vietnam.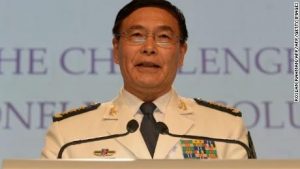 US Defence Secretary Ashton Carter stated, " unfortunately, there is growing anxiety in this region, and in this room, about China's activities on the seas, in cyberspace, and in the region's airspace. Indeed, in the South China Sea, China has taken some expansive and unprecedented actions, that have generated concerns about China's strategic intentions. And countries across the region have been taking action and voicing concerns publicly and privately, at the highest levels, in regional meetings, and global fora. As a result, China's actions in the South China Sea are isolating it, at a time when the entire region is coming together and networking. Unfortunately, if these actions continue, China could end up erecting a Great Wall of self-isolation." He was addressing the Shangri-La Dialogue at Singapore recently .
The United Kingdom identified defence diplomacy as one of the military's eight defence missions, and aims to "dispel hostility, build and maintain trust and assist in the development of democratically accountable armed forces" to make a "significant contribution to conflict prevention and resolution." Defence diplomacy is often developed and implemented in close coordination with the foreign and development ministries to ensure coherence and focus across government.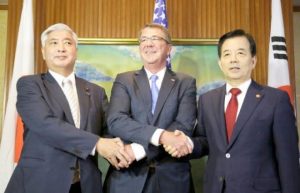 The United States and United Kingdom both reiterated their commitment to the Asia Pacific region to maintain stability and security in the region, in the wake of growing turbulence in the South China Sea. "Just look at recent months. The President hosted the first-ever U.S. ASEAN Summit at Sunnylands. President Obama made historic visits to Vietnam and Japan last week, his tenth trip to the region. I'm now on my fifth trip to the region – and it won't be my last. And my colleague and friend John Brennan, our CIA Director, is also attending the Shangri-La Dialogue this weekend. Several of my Cabinet colleagues will attend next week's U.S.-China Strategic and Economic Dialogue. Prime Minister Modi will be in Washington next week, and Prime Minister Lee, as I said, will visit the following month. And the President will return to Asia again in September. In other words, this is a busy month in a busy year but one that is representative of America's increased attention and engagement in the region," said Carter .
Admiral Sun Jianguo, deputy chief of the Joint Staff Department of China's Central Military Commission, met with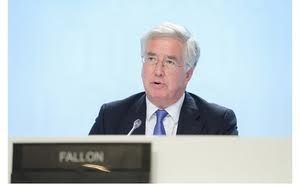 Vietnam's Deputy Minister of National Defense Nguyen Chi Vinh leaving a message that promoting the development of bilateral military relations is in the interests of the two countries and peoples. Both hoped that the two countries can step up high-level exchanges, enhance strategic trust, boost cooperation in various sectors, including cooperation under the framework of the United Nations peacekeeping missions. "We do not make trouble, but we have no fear of trouble. China will not bear the consequences, nor will it allow any infringement upon its sovereignty and security interests or stay indifferent to the irresponsible behavior of some countries in and around the South China Sea," he strongly stated.
Shangri-La dialogue is to stress on both defence diplomacy and military diplomacy. While defence diplomacy refers to the pursuit of foreign policy objectives through the peaceful employment of defence resources and capabilities military diplomacy is a sub-set of this, tending to refer only to the role of military attachés and their associated activity. Defence diplomacy does not include military operations, but subsumes such other defence activity as international personnel exchanges, ship and aircraft visits, high level engagement (e.g. Ministers and senior defence personnel), bilateral meetings and staff talks, training and exercises, regional defence fora, outreach, confidence and security building measures and non-proliferation activities.
UK Defence Secretary Michael Fallon emphasised, "to be clear, we are not taking sides. We don't support the claims of any claimant over another. Our commitment is to the Rules-based International System, international law, and the maintenance of freedom of navigation and overflight – both of which we consider non-negotiable. We expect all parties to avoid actions which could further raise tensions, and to implement the UNCLOS tribunal's ruling. We urge the resumption of peaceful negotiations, including on a binding code of conduct in the South China Sea,"
The direct beneficiary of global concern of the South China Sea is Japan and its Minister of Defense Gen Nakatani Tokyo expressed concern, "Chinese control of a waterway through which some $5 trillion of global trade passes a year would threaten Japan's national security and take Beijing one step closer to extending its influence into the East China Sea and Western Pacific. China's recent air interception of a U.S. military reconnaissance plane was extremely dangerous ."
Nakatani called on all South China Sea (Vietnam's East Sea) claimants to submit to what is expected to be landmark legal ruling by the Permanent Court of Arbitration in the Hague where the Philippines is challenging Beijing's claim to territory stretching deep into the maritime heart of Southeast Asia. "Every judgment or decision made by related courts must be fully observed by all claimants in accordance with relevant international law," the Japanese minister said.
India and its growing prowess and standing in the region makes its feel concerned about a broad look at trends in the region which suggest that countries in the Asia-Pacific are spending more on defence. " If you look at recent figures, Australia, China, India, Indonesia, Japan, Philippines and Vietnam, all appear to be spending more on military capabilities. A closer look suggests the picture is more complex. In some cases, there is a catching-up happening after years of neglect of capital expenditure in defence. In other cases, there are new challenges and new roles for the armed forces.
Regardless of what view we take, I believe that we cannot reach a definitive conclusion that we are witnessing emerging military competition in the region based on figures of military expenditure," said Indian Defence Minister Manohar Parrikar.
"What really matters is the manner in which military capabilities are developed and how they are deployed. These two aspects – you may simply call them transparency and behaviour – are perhaps more important than expenditure alone. This is not to dismiss the challenge. Given the destructive nature of current military technologies, it is obvious that we should take any signs of an Asia-Pacific wide military competition seriously. However, I believe that we should stay focused on the equally important challenge of creating and nurturing frameworks to manage security issues. These frameworks should promote transparency as well as the right behaviour. They should help us build mutual trust and confidence to avoid conflict," he explained.
Regional conflicts should be resolved through cooperation, Thai Prime Minister Prayut Chan-o-cha felt and said that Thailand is willing to maintain peace and stability in the Asia-Pacific Region under the international law, the Thai leader said.
South Korea has called for harsher sanctions against the North, characterising its recent provocations, most recently a failed missile launch on Tuesday, as "nuclear blackmail" and calling existing punishments as no more than a "slap on the wrist". Yoon Soon Gu, director-general of the the South's defence ministry's International Policy Bureau, said at a Shangri-La Dialogue panel discussion: "Considering the unpredictability of the Kim Jong Un regime, failure to contain the threat can lead to catastrophic consequences."
The Singaporean defense chief Singapore's Minister of Defense Ng Eng Hen hailed the Singapore-China relations as in a smooth development run, which sees fruitful cooperation in various sectors. He said Singapore takes an objective stance in international and regional cooperation, with no purpose to harm any side. He expressed the wishes for concerned parties to exchange views and enhance understanding on matters including the South China Sea issue at the dialogue.
Meanwhile a strong conflicting view was Russia's deputy defence minister who criticised the possible deployment of a US missile defence system in South Korea. Anatoly Antonov said , "we have serious concerns about the developments on the Korean Peninsula. Russia remains fully committed to a non-(nuclear) proliferation regime and the non-recognition of North Korea's nuclear ambitions. At the same time, we are strongly opposed to excessive military response to Pyongyang's actions. We found it absolutely unacceptable to try to use North Korean nuclear missile programmes as a pretext to change the military-political balance in the region. First of all, I am referring to the plans on (the) deployment of the new segment of the US global missile defence system in the Asia Pacific. Such short-sighted steps are flawed, with grave consequences for regional stability."
New Zealand Defence Minister Gerry Brownlee held bilateral talks with counterparts from China and Southeast Asia . "The Shangri-La Dialogue provides a unique opportunity to engage with a range of regional partners to discuss the key security challenges facing the Asia-Pacific region and how best to tackle them," Brownlee said in a statement.
The Shangri-La Dialogue was conceived by the current IISS Director-General and Chief Executive Sir John Chipman in 2001 in response to the clear need for a forum where the Asia Pacific defence ministers could engage in dialogue aimed at building confidence and fostering practical security cooperation.
The takeaway from the SLD is that region will be stronger, safer, and more prosperous when all countries are working toward a common vision in which shared principles are upheld, all countries enjoy equal treatment irrespective of their size or strength, and disputes are resolved peacefully and lawfully. Unfortunately, there is growing anxiety in this region about China's activities on the seas, in cyberspace, and in the region's airspace. Indeed, in the South China Sea, China has taken some expansive and unprecedented actions, that have generated concerns about China's strategic intentions. The summit also served as the last regional security meeting before an expected ruling by the Permanent Court of Arbitration at The Hague on challenges by the Philippines to China's claims to most of the South China Sea, an area roughly the size of India. A ruling is expected by the end of the summer, but China has already stated it does not recognize the court's jurisdiction.
More than 560 delegates from 52 nations and regions, including 32 official delegations, attended the 15th Shangri-La Dialogue. The summit serves to cultivate a sense of community among the most important policymakers in the defence and security community in the region. Government delegations have made the best out of the meeting by holding bilateral meetings with other delegations on the sidelines of the conference.
Defence diplomacy is often associated with conflict prevention and security sector reform. It is distinct from the concept of gunboat diplomacy, which is generally understood to be motivated by a desire to intimidate potential adversaries.