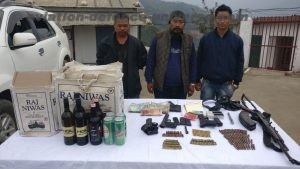 New Delhi. 24 January  2018. In a major blow to Naga insurgents, a senior cadre of the NSCN (Kitovi-Neopak) group was apprehended in Nagaland.
Acting on specific information from National Investigation Agency (NIA) about movement of a senior NSCN cadre from Dimapur to Zunheboto, a joint team of Assam Rifles and National Investigation Agency established multiple mobile vehicle check posts in Kohima district of Nagaland on the morning of 23 Jan 2018.
During a vehicle check at the Mobile Vehicle Check Post in Zubza near Kohima, troops of Assam rifles apprehended a Self Styled Brigadier of NSCN (KN) from a TATA Fortuner vehicle Regd No NL-07 C 2266 along with two cadres of NSCN (KN). The apprehended cadre have been identified as SS Brigadier Aheto H Chophy s/o Hozuxu, r/o Village Yehemi, Zunheboto, Nagaland along with two cadres, namely, SS Sergeant Witti Marak and  Mughahoto Sumi.
Aheto Chopy is Accused No 3 in a NIA case No RC 03/2013/NIA/GUW pertaining to criminal conspiracy for misappropriation of government arms and ammunition belonging to Zunehboto District Executive Force Kote. A non bailable warrant was issued against him by a Special Judge of NIA on 14 May 2014 and subsequently on 08 Jul 2014.
One Type-56 rifle, two pistols, 176 rounds of ammunition, ₹1,32,320 in Indian Currency, mobile instruments and incriminating documents were seized during the operation.