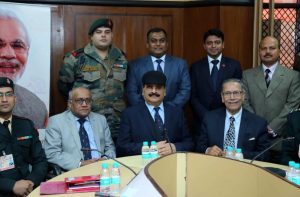 New Delhi, 

24 December, 2016.

 Memorandum of Understanding (MOU) signing ceremony was conducted at United Services Institution of India (USI), Rao Tularam Marg between the Infantry Regiments of the Indian Army and Security Sector Skill Development Council (SSSDC) on 22 December 2016. The MOU was signed by the Army Regimental Commandants from Maratha Light Infantry, Bihar, Jammu & Kashmir Rifles, Dogra, Mahar, Grenadiers, 11 Gorkha Rifles Jammu & Kashmir Light Infantry Regiment and CEO, SSSDC. Representatives from the Army Headquarters (Infantry 12) & Directorate of Indian Army Veterans (DIAV) were present during the ceremony.
Speaking on the occasion, Kunwar Vikram Singh, Chairman, SSSDC stated that with the signing of the MOU, a new impetus towards rehabilitating our soldiers on superannuation has been given. We all are aware that an Infantry Soldier retires very early, at an average age group of 40 years. He hence has a fair amount of residual age left where he can work & earn a decent livelihood for himself by supplementing his pension. The Security Sector comprises of 70 Lakh security persons & as on date there is a deficiency of approximately 30%. The Private Security Sector is growing at a very fastpace & presently there is a deficiency of approximately 25%. In other words, there are opportunities for the retiring soldier provided he is willing to work.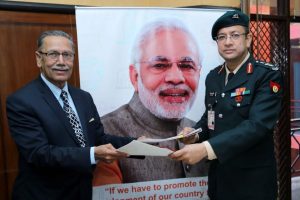 Kunwar Vikram Singh expressed his happiness that the Army personnel have opted in great numbers to become associated with the Security Sector as Trainers & Assessors. With the announcement of the Government of various skilling schemes, the skilling mechanism in the country has expanded exponentially, thereby providing opportunities for employment of trainers and assessors. The industry is very keen to absorb such a well disciplined& honest workforce, he stated.
Earlier, Maj Gen K Majumdar, COO, SSSDC briefed the Army representatives about the scheme & the training that is being imparted in consonance with the Government scheme of Pradhan Mantri Kaushal Vikas Yojna, wherein the clause of Recognition of Prior Learning is being invoked to basically impart bridge course training to update the retiring soldiers on the current professional requirements of the industry.
Maj Gen AK Sakhuja, CEO, SSSDC interacted with the Army personnel & expressed his views on a number of issues raised by the service personnel. He assured the august gathering that certificates of the successful candidates will be expedited & forwarded to them in the earliest time frame.
The Army personnel expressed their satisfaction on the conduct of training being imparted by SSSDC trained Trainers & the assessment process being maintained.