India should develop national security doctrine
Legal framework, infrastructure, technology, capacity building the key
By Our Specal Correspondent.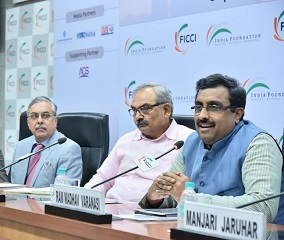 New Delhi. 08 September 2016.
India's vast land and maritime borders with six countries dictates the use of technology, infrastructure development, setting up of additional border out posts and use of interceptors boats for effectively guarding India's border, said Rajiv Mehrishi, Union Home Secretary. At the same time, gainful economic opportunities needed to be provided to spur economic growth and promote internal security, he felt.
Delivering his Special Address at the valedictory session of the FICCI-India Foundation convention on 'Homeland Security-2016: Smart Border Management', Mehrishi said that there was a need for new and enhanced legal framework to deal with the challenges such as related to cyber security and to regulate unmanned aerial vehicles. Besides, constant reviews and updates to the legal framework were needed to deal with frequent changes in technology."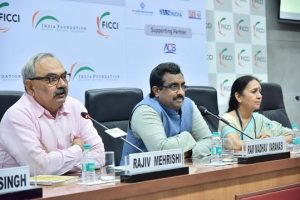 He informed that the government had taken up initiatives such as Crime and Criminal Tracking Network and Systems (CCTNS), Integrated Criminal Justice System (ICJS), National Emergency Response System, NATGRID and cyber security, and was working insistently on them to beef up India's security systems.The Home Secretary said that though India does not match the international standards of police-people ratio, the police force had grown exponentially in number over the years. However, there was still a need for capacity building, providing enhanced technology, imparting expertise and training to the police personnel to deal with new and emerging threats like cybercrime.
Ram Madhav, National General Secretary, Bharatiya Janta Party, said that India needed to develop a national security doctrine and strategic culture for dealing with the issues related to its homeland security of which border management was a critical aspect. The country faced a great dilemma, he said, because to promote commerce there was a need for open borders but for ensuring security, a closed border was favored. Hence, there was need to find a way to reconcile the two situations.
To strengthen the security of the country, he added that the government was addressing the issues such as lack of infrastructure in the border areas, amending the laws, infusing more funds for acquiring modern weapons and arming the forces with required capabilities. However, there was still a need to provide civilians on the border with facilities such as well-constructed roads, telecommunication and houses to win their trust and support.
He said that it was a gigantic task to build a consensus among the varied forces and departments, which at times resulted in unnecessary delays.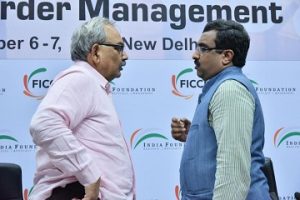 In her closing address highlighting the issues that must be addressed immediately for smart border management, Manjari Jaruhar, Chair, FICCI Committee on Private Security Industry and Former Special DG-CISF, Government of India, said that developmental activities on the border needed to be stepped up as the people living in the border region were a great source of intelligence and information to the security forces deployed at the border. Hence it was essential to create and develop infrastructure in border areas.
Besides, she said that there was an urgent need to develop indigenous technology to support for homeland security and border management. Domestic R&D should be accelerated while technology stakeholders work towards coming out with best practices and technology suited for Indian security needs. With the evolving cyber space, new threats to security had emerged, she said and added that the government needed to enhance its investment in the cyber security space to check lone wolf attacks which were witnessed in Europe.