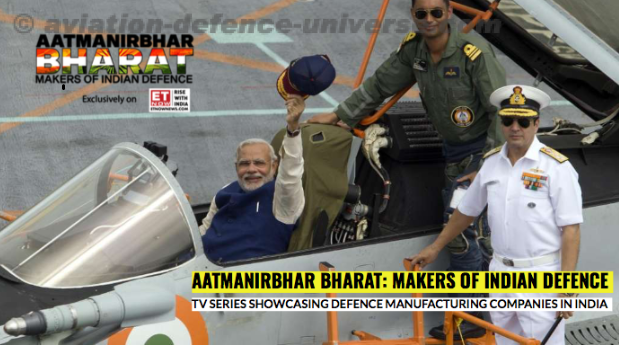 New Delhi. 07 October 2021. The Indian Aerospace and Defence Industry is a strategically important sector in the country. Under the "Make in India" initiative of the Government, 64% of the defence modernisation budget has been kept for Indian players. Through various Government incentives and the entry of new players, along with established Indian manufacturers, as well as international OEMs with a presence in India, the Indian Aerospace and Defence industry is poised to reach a figure of approximately $70 billion by the year 2030.
The work and stories of several leading defence companies were showcased in an exclusive television series, "Aatmanirbhar Bharat – Makers of Indian Defence". This series captured the growth stories of these companies, as well as their contribution towards making India self-reliant in the A&D sector.
After the success of Season 1, which featured companies such as Lockheed Martin, Navantia, Naval Group, MKU Ltd., Lohia A&D, Walchand Nagar, Titagarh Wagons, SMPP, Exicom and more, the second season of this impactful and insightful TV-Documentary series is all set to be rolled out. This will be showcased exclusively on ET Now, a leading English news channel and will be telecast from January 2022, leading up to Defexpo. With KPMG as the knowledge partner, and Inter Corp as the PR partner, the team is joined by Aviation & Defence Universe (ADU) as the media partner. This series is an initiative by The Catalysts.
The series will continue to feature organisations who have had a deep impact on India's self-reliance story, as well as their visionary leaders. With an interesting mix of in-studio interviews to highlight the companies' leadership, along with on-ground shooting (showcasing products, technology, manufacturing facilities etc), the series allows each company to tell their story, capturing their background, accomplishments, and future vision.
With continued Government focus on the A&D sector, the upcoming season of the series promises to be a success, with several leading Indian manufacturers and international OEMs showing interest in participation.