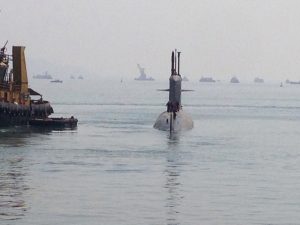 By Sangeeta Saxena.
Mumbai. 01 May 2016. It was a news much awaited and the day of pride for Indian Navy, which is on a major indigenisation drive.  Kalvari, first of the P75 submarines, sailed out off Mumbai harbour for sea trials. Kalvari is one of Indian Navy's 6 Scorpene class stealth submarines which are being developed by Mazagon Docks Ltd, Mumbai. It is a class of diesel-electric attack submarine which is designed by French naval defence and energy company DCNS and being manufactured by Mazagon Dock Limited in Mumbai.
It has been a long time since  India chose the Scorpène design; purchasing six submarines for US$3 billion ($500 million per boat) under Project 75 in 2005.  The project, borne out of necessity for the depleting fleet due to  replacement for the older Sindhughosh (Kilo) and Shishumar (U209) class of submarines, has been the most awaited addition to the Indian fleet.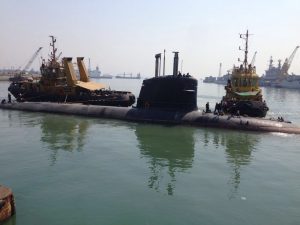 The Scorpène design won the deal, defeating the rival U214 because of the capability to fire Exocet anti-ship missiles and an agreement on the air-independent propulsion (AIP). INS Kalvari is armed with six 533 mm torpedo tubes that can deploy the SM-39 Exocet Block 2 anti-ship missile. Defence Research and Development Organisation(DRDO)developed  an AIP system for the last two Scorpène submarines for the Indian Navy. The Scorpene submarines promise to  pack a potent punch. They  will be equipped with anti-ship missiles and long range guided torpedoes along with a modern sensor suite.
Construction of the first submarine started on 23 May 2009. The project is running four years behind schedule. The hull fabrication of all six submarines is now complete. The first Scorpène submarine will be delivered in September 2016, delivery of successive boats have been compressed to nine months and the project is expected to be completed by 2020.
Kalvari, literally means 'The Tiger Shark' and the submarine is named after its predecessor, Kalvari which was a Russian 'Foxtrot' class submarine. The Russian Kalvari was the first submarine operated by India.