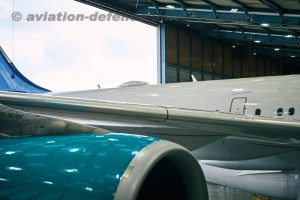 Copenhagen, Denmark. 28 April 2022. Satair and JetSMART have signed a Letter of Intent for a multi-year agreement for Satair's Integrated Material Services program (IMS), a comprehensive expendables material solution that will support JetSMART Chile and its growth in South America covering the complete A320/A321 Ceo and Neo fleet.
JetSMART and Satair started their IMS partnership with Entry-Into-Service of JetSMART in Chile in 2017. The new multi-year IMS contract will enhance the cooperation by covering apart from Chile additionally Argentina and the newly in-operation hub Peru. The IMS service solution tailored to JetSMART's operations is supported from on-site stocks at the different hubs and a newly set up Satair pool stock in Miami.
Satair's IMS service offers an end-to-end supply chain solution that includes planning, forecasting, sourcing, purchasing and logistics, covering all expendables required in the typical aircraft maintenance lifecycle. The solution is developed in close collaboration with the airline as both a partner and a customer.
Estuardo Ortiz, CEO of JetSMART, commented "We are pleased to continue the growth of our successful business relationship with Satair. Our long-term partnership will continue to secure efficient and robust material operations while reducing overall maintenance costs that will support us to continue to fly SMART and safely for our customers."
Paul Lochab, CCO of Satair, said: "The IMS contract extension is reaffirming the mutual trust in our partnership. We are excited to continue working and growing together with JetSMART. Through our IMS program, we are securing higher spare parts availability and stock optimization, increasing aircraft operational reliability, providing significant cash savings on spare parts expenditure, and supporting the backbone of our customer's daily operations."