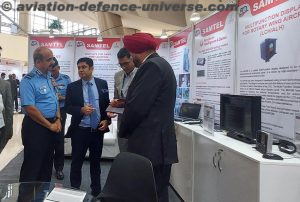 New Delhi. 22 March 2023.   Samtel Avionics, India's Leading Aerospace & Defence Firm in Private Domain is participating in the DefTech Exhibition being organized jointly by PHDCCI and Vision Initiatives at Manekshaw Bhawan, Delhi on 21st & 22nd March 2023. Samtel, which is now poised to serve the Land Forces after successfully supporting the Indian Air Force in its quest for indigenization is showcasing their product range for Army, Army Aviation and Naval Aviation in this exhibition.
With a focus on Indian Army, and support of a strong R&D team which is keen to work on futuristic technologies, Samtel has developed Rugged Displays for Combat Vehicles and Armoured Vehicles, which is one of the expertise areas on display at the exhibition. Besides this, Samtel has also put up a demo of the Multifunction Display (MFD) for LCH & ALH, as well as Pilot Control Unit (PCU) for LCH/ALH MFD – both of which are targeted at the Army Aviation and Naval Aviation segments. Along with these, Samtel is showcasing a demo of Taclink® Tactical Routers, developed in collaboration with Raytheon Intelligence & Space which enable networking capabilities over traditional voice radios.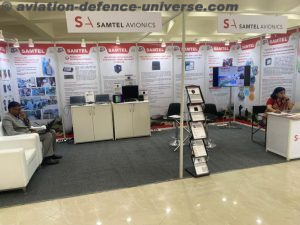 The event includes a Seminar which aims to create a positive dialogue between Industry Leaders and key decision-makers of the Indian armed forces. The exhibition, hosted on the sidelines of the Seminar, provides the Aerospace and Defence industry players to have a direct dialogue with the senior Leadership of the Armed Forces. During his address to the gathering, the Chief of Air Staff, Air Chief Marshal VR Chaudhari also emphasized on need for increased private sector involvement. During his round of the exhibition area, the Air Chief visited the Samtel booth and appreciated the Samtel products on display.
Puneet Kaura was part of a panel discussion on the topic of New Edge Technologies to Enhance Land Warfare Systems, with the Vice Chief of Army Staff Lt Gen MV Suchindra Kumar and  Rudra Shriram of DCM Shriram as co-panelists, and they discussed how the private sector can play a more active role in defence procurements. All on all, the DefTech event has been able to achieve its main aim, i.e., to provide a potent platform for bringing together some of India's brightest minds from the armed forces and the defence and technology sector with the common motive to exchange thoughts and ideas for a better, stronger, and more self-sufficient India.