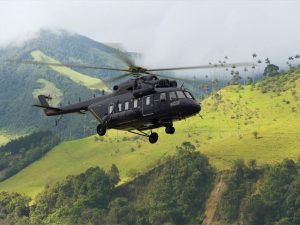 Moscow. 09 February 2017. Russian Helicopters (part of State Corporation Rostec) has signed a distribution agreement with United Helicopters International Group Limited. The company will become an official dealer for Russian helicopters in the Chinese, Malaysian, and Australian markets.
The fact that Russian Helicopters (part of State Corporation Rostec) now have the first distributor for civilian helicopters is a huge step towards the implementation of the company development strategy. Under this agreement, the sales market will include China, Malaysia, and Australia. Apart from the sales and the promotion of Russian-made civilian helicopters at those country markets, the parties will cooperate in interacting with leasing companies.
"Russian-made helicopters are famous in the world market for their reliability and high quality. To increase the share on the civilian helicopters market, we are interested in developing a network of dealers and companies which contribute to the promotion of civilian helicopters Ka-32, Mi-171 and Ansat in the markets strategic for Russian Helicopters. I am sure that our new distributor United Helicopters International Group will help us reach this goal and bring an increase in the Russian helicopter fleet in the Asia-Pacific region," states Deputy CEO of Russian Helicopters for marketing and business development Alexander Shcherbinin.
Ka-32 helicopters have been actively used in China for several years now for fire-fighting and rescue operations. Its coaxial main rotor system makes it one of the best choices for fighting complex city fires. Therefore, it has proved a success in China's alpine regions and modern metropolises.
Mi-171 helicopters have also been used in the Republic of Korea for a long time for transportation and evacuation of people from disaster areas, as well as for transportation of cargo, such as medical supplies, humanitarian assistance, and building materials.
The multi-purpose light helicopter Ansat boasts the largest cabin in its class and can carry from 7 to 9 passengers depending on the equipment. The helicopter has a maximum speed of 275 km/h and its flying range is over 500 km. Due to the equipment installed, the Ansat can be used to transport passengers and cargo, for sanitation and search and rescue operations, as well as for training and patrol. In China, who is the first foreign customer of the Ansat, the helicopter will be used for medevac purposes.
"Russian Helicopters is a great brand which combines grand tradition with global technological leadership. Greater China and Asia-Pacific countries are among the most rapidly developing world regions, and their aircraft markets are very promising. We are happy to be the first distributor of Russian Helicopters in these regions," announces Director-General for United Helicopters International Group Li Li.