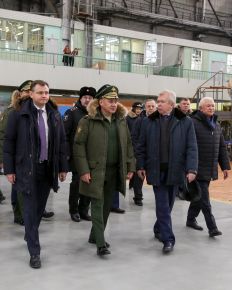 At the enterprise, the head of the military department for the first time demonstrated a modernized Su-30SM fighter. The VKS of Russia and naval aviation of the Navy are armed with over 100 combat vehicles of this type. Thanks to modernization, their combat capabilities will increase: the range of detection and recognition of airborne targets will increase, new high-precision means of destruction of air, land and sea targets will be introduced at a range of several hundred kilometers.
The Minister of Defense familiarized himself with the production of multi-purpose Su-30SM fighters for the CSTO member countries. Two squadrons of Su-30SM aircraft have already been put into service with the Republic of Kazakhstan, deliveries will continue. In 2019, the national armed forces of the Republic of Belarus are preparing to take the first batch of the Su-30SM.
The head of the military department inspected the production of Yak-130 combat trainers. Over 100 Yak-130 are actively used in training centers of the Ministry of Defense of Russia, this year deliveries of vehicles will continue. Also, the Yak-130 aircraft are operated abroad, in particular, in the Republic of Belarus and in the countries of the Asia-Pacific region. In January 2019, the solemn ceremony of the transfer of the Yak-130 aircraft took place in Laos. Russian combat training vehicles took part in a military parade dedicated to the 70th anniversary of the founding of the armed forces of the Lao People's Democratic Republic.