To sign contract by March
Completes negotiations with India on delivery of the helicopters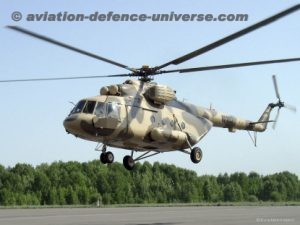 New Delhi. 25 January 2018. This is another step ahead for a india with its all weather friend Russia. "Negotiations with the Indian side on the delivery of 48 Mi-17V-5 helicopters have been completed; we expect to sign the corresponding contract in the first quarter of 2018, " said Sergey Chemezov, CEO of Rostec State Corporation, in a quote sent by the Russian defence major. .
The Mi-17V-5 is a Russian-made military transport helicopter designed to carry personnel, cargo and equipment. It is fitted with an external sling which can carry cargo on the outside too. Its primary task includes tactical air drops, to destroy targets on the ground and carry the wounded.
Indo-Russian defence partnerships are surging ahead and decisions have started coming up quickly. Traditional allies of today's India surely have a thought in mind- do it fast or they might change their mind. India's new friendships and partnerships might be threatening to the old ones.
Indian already has more than 150 of these choppers. India's Ministry of Defence had also approved the IAF's proposal to convert six of the new Mi-17 V5s into VVIP configuration as an interim measure to replace the old and outdated Mi-8 helicopters of the IAF's VVIP Communication Squadron based at Palam, New Delhi, post the AgustaWestland crisis.
"Our helicopter meets all the requirements presented in the tender documentation, and its technical characteristics exceed our competitors. We already have a solution for the naval version of this helicopter with folding blades, " said the CEO.
Produced by Kazan Helicopter Plant, a unit of Russian Helicopters, the Mi-17 V5 supplied to India ranks among the most advanced helicopters of the Mil Design Bureau's Mi-8/17 family and is capable of transporting troops and cargo inside the cabin as well as large size cargo like artillery guns on an external sling.
"If the Ministry of Defence of India selects the Ka-226T, India can save money significantly. Thanks to the project for joint production of helicopters, there are opportunities for joint maintenance, training of pilots and mechanics and other related costs, " he added.
The Mi-17V-5 military/transport helicopter is designed to carry personnel, cargo and equipment inside the cargo cabin or on an external sling, drop tactical air assault forces and reconnaissance and sabotage groups, destroy ground targets and carry the wounded. The helicopter is equipped with a modern avionics suite providing round-the-clock employment of the helicopter and weapons.Its armament system includes unguided rockets (up to 80 S-8 80mm unguided aerial rockets), cannons (suspended pods with 23mm cannons and 250 rounds each) and small arms.The helicopter is fitted with a self-defense system against heat seeker missiles, heavily-armored cockpit, vital systems and components, and features enhanced survivability. It has efficient loading/unloading of cargo and paratroopers through the presence of two doors on the sides of the helicopter and a powered ramp.