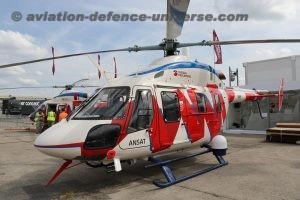 Moscow. 02 February2021. Kazan Helicopters of Russian Helicopter holding company (part of Rostec State Corporation) has received approval from the Federal Air Transport Agency (Rosaviatsiya) to equip Ansat helicopter with the Mku30 satellite communication system. This option will provide helicopter passengers with high-speed Internet access during the flight.
This Ku band satellite communication system, created by MOST Satellite Systems, provides up to 2 Mbit/s Internet access at the coverage area of the Yamal satellites. Mku30 allows to provide uninterrupted transmission of large amounts of data during flights, organize on-board video conferences and stream high quality video in real time. Data transfer to passengers' mobile devices is provided using a Wi-Fi access point.
"Ansat is a versatile helicopter with a design that allows it to be adapted for a wide variety of operations: from an ambulance to a VIP configuration with advanced digital services. Ansat equipped with high-speed Internet access allows its passengers to stay in touch even during the flight. The service will be useful for both discerning passengers, as well as doctors, police, employees of the Ministry of Emergency Situations, who will be able to stay online to receive operational information," reported in the aviation cluster of Rostec State Corporation.
The first Ansat helicopter, equipped with the new Mku30 satellite communication system, was presented at the 53rd International Paris Air Show in 2019.
"The satellite communication system will be installed in the Ansat helicopter at the request of the customer. It will be most relevant for passenger and VIP modifications of the helicopter. The ability to use the Internet during flights is another step towards improving the comfort level of Ansat helicopters," said Managing Director of Kazan Helicopters, Alexey Belykh.
Russian Helicopters and MOST Satellite Systems signed an agreement on cooperation in the field of joint promotion of helicopter technology equipped with satellite communication systems produced by the latter during the International Helicopter Industry Exhibition HeliRussia-2018. The agreement also provides for the development and implementation of after-sales service projects.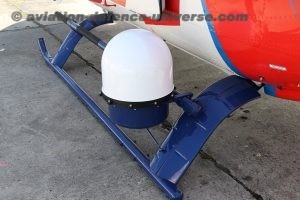 An upgraded Ansat-M helicopter with an increased flight range (up to 800 km with an additional fuel tank) took to the skies on December 29, 2020. The updated version comes with static stability, state-of-the-art avionics and modernized heating and ventilation systems. In 2021, the model will also receive 3-channel autopilot.
Ansat is a light multipurpose twin-engine helicopter. Its serial production is deployed at Kazan Helicopters. Its design enables to promptly transform it both into a cargo and a passenger configuration allowing transportation of up to 7 persons. In May 2015, a supplement to a type certificate for the modification of the helicopter with a medical module was obtained. Ansat is certified for use in the temperatures ranging between -45°С and +50°С, and in high mountains. In August 2018, the Federal Air Transport Agency (Rosaviatsia) approved a major change in increasing the capacity of several assemblies and systems of Ansat. In 2019, Rosaviatsia certified an increase in the airworthiness of Ansat's fuselage to 16,000 flying hours. In February 2020, Russian aviation authorities certified the installation of an emergency floatation system to Ansat. Additional approval was issued for a major change to increase the airworthiness limitations for several major parts of the helicopter, making Ansat even more attractive to potential customers and increasing its competitiveness.