MTU Series 4000 engines for naval vessels will be assembled at Diesel Engine Plant in Ranchi
Agreement deepens long-standing co-operation between MTU and Garden Reach Shipbuilders & Engineers
Kolkota. 05 May 2017. Rolls-Royce and Garden Reach Shipbuilders & Engineers Ltd. (GRSE) have agreed the final assembly of MTU Series 4000 engines in India. The 12V and 16V 4000 M90 type engines will be assembled in GRSE's Diesel Engine Plant in Ranchi. An option for the local production of parts in the future was also agreed. The engines have a rated power of 2,040 and 2,720 kW, respectively, and will be installed in various naval vessels built by GRSE. The agreement includes the transfer of MTU technology related to assembly, testing and painting. GRSE is one of India's leading shipyards and part of the Indian Ministry of Defence as a Defense Public Sector Unit (PSU). MTU is a brand of Rolls-Royce Power Systems.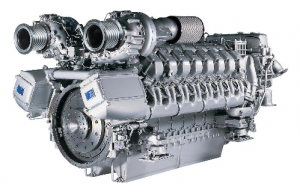 Rear Admiral (ret.) V K Saxena, Chairman and Managing Director at GRSE, said: "This agreement strengthens our long-standing and successful partnership with MTU. It is an important contribution to our indigenization programme in line with the government's Make in India strategy. We plan to take forward the partnership between GRSE and MTU partnership and to achieve 40 percent indigenous content progressively for MTU 4000 series engines."
Praveen Mohan, CEO, MTU India, said: "We are delighted to continue and deepen our co-operation with GRSE. India is one of the most important growth markets for MTU. MTU has demonstrated its commitment to India as a location for business and investment for many years through the Engineering & Research Centre and Global Purchasing Office based in Pune as well as earlier licence agreements with GRSE. We look forward to making further engines in India."
MTU and GRSE have a long-standing relationship spanning over three decades which started with the assembly of MTU Series 538 and 396 engines, also at the Diesel Engine Plant (DEP) in Ranchi. Since 2004, GRSE assembles Series 4000 engines in India from components and parts sourced from MTU. The now agreed assembly is significantly more complex than the work done previously. GRSE's DEP has already assembled more than 100 MTU engines.
The Indian government's strategy for strengthening the Indian economy – called "Make in India" – is gaining prominence in India for all naval and land defence projects. The agreement between MTU and GRSE is in line with this strategy.