By Col NB Saxena
New Delhi. 02 May 2016.
A symposium on "100 years of the Tank" was organised by South Asia Defence & Strategic Review on 2nd May 2016 at Kothari Auditorium, DRDO Bhawan, New Delhi on the occasion of the Armoured Corps Day. 
The opening Address was delivered by Lt Gen Ajai Singh, the former Governor of Assam. Other important addresses included address on 'Future Battle Space – Fostering Combined Arms Effect' by Lt Gen Subrata Saha, Deputy Chief of Army Staff (P&S), "A dominant Multi-Spectrum Force of Decision" by Lt Gen AB Shivane, Director General Mechanised Forces, 'Armour- The way forward' by Lt Gen AK Singh, the Lieutenant Governor of Andaman & Nicobar and Puducherry.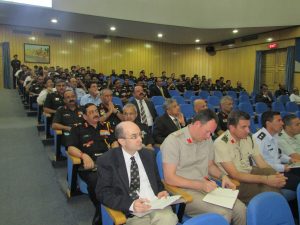 The second session was chaired by Lt Gen Philip Campose, former Vice Chief of the Army on "Glorious Past, Dominating Present and Challenging Future". A panel discussion was also held on 'Leadership Challenges in Combat in Modern Day Mechanised Battlespace' chaired by Lt Gen Amit Sharma, Commander in Chief, Strategic Forces Command which also included talk by Col Efraim Defrin of the Israel Army on "Major Tank Battles post WW-II and Takeaways" 
The final session on "Tanks in Future Battlespace" was chaired by Lt Gen Anil Chait (Retd), former CISC and commenced with the address by Lt Gen KJ Singh, Western Army Commander on the "Envisaged role of tanks in the Indian Context in Contemporary Battle Space". Lt Gen KJ Singh also chaired the panel discussion on "Touch stones.