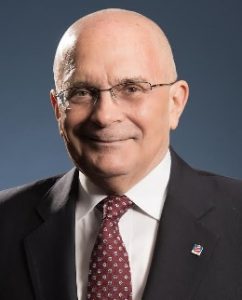 Honolulu.26August2016.The East-West Center Board of Governors announced that Dr. Richard R. Vuylsteke, an East-West Center alumnus with extensive experience throughout the Asia-Pacific region, has been selected as the next president of the East-West Center. The appointment of Dr. Vuylsteke concludes a year-long search involving several hundred potential candidates.
Dr. Vuylsteke has been President of the American Chamber of Commerce in Hong Kong for the past eight years. Previously he served as President of the American Chamber in Taipei, Editor-in-Chief of the Taiwan Review, and Area Studies Coordinator for the U.S. Department of State Foreign Service Institute in Taipei. Early in his career, he was a Fulbright scholar at the University of Rajasthan, India.
Dr. Vuylsteke earned his Ph.D. in Asian and Western Social and Political Philosophy at the University of Hawai'i at Manoa. His extensive background in Hawai'i included research and administrative work at the East-West Center and teaching at the University of Hawai'i from 1973-86, and at Chaminade University. He also worked for a period for the Pacific Forum (now Pacific Forum/CSIS).
Richard Turbin, EWC Board Chair, stated that "Dr. Vuylsteke brings tremendous assets to the future work of the East-West Center. As a former student and employee of the Center, he has a deep understanding of the institution and its mission. As the leader of the American Chamber in Hong Kong, and before that in Taiwan, he has extensive relationships with American and Asia-Pacific business leaders throughout the region. We are excited about his choice."
Dr. Vuylsteke succeeds Dr. Charles E. Morrison, who had announced his retirement last year. Morrison will continue to serve until Dr. Vuylsteke arrives, likely early in 2017. Details and terms of his contract and arrival time are being finalized.