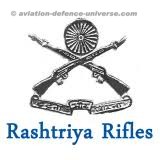 New Delhi, 01 Oct 2017. Rashtriya Rifles the premier fighting force of Indian Army which is engaged in constant counter terrorism operations, celebrated 27 years of being deployed against terrorists and  insurgents. Rashtriya Rifles stands as strong response to the Nation's challenges.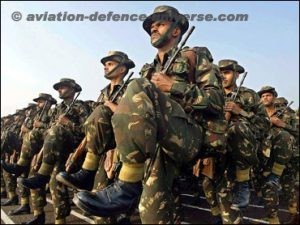 The continuous employment of Army in counter insurgency duties along with existing conventional threat, warranted a specially structure and organised force to deal with India's internal security situation.  The Force has fully justified its deployment in Jammu and Kashmir by creating secure environment leading to incident free elections, carried out flood relief operations, impacted the quality of life of locals in addition to have been involved in continuous operations against terrorists.
The RR is a counter-insurgency force made up of soldiers deputed from other parts of the Indian Army. The force is currently deployed in the state of Jammu and Kashmir. It is a force completely composed of Indian Army personnel, who undergo pre-induction training and operate in a grid structure to deal with insurgents at high altitudes.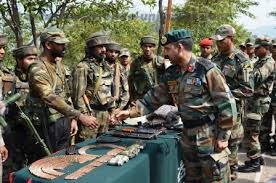 The army got the go-ahead to create the RR from the Vishwanath Pratap Singh government in 1990. The initial sanction was for two sectors headquarters (HQs) each of three battalions. When General B.C. Joshi became Chief of Army Staff, he pushed a long-held army view, that India was involved in an extended counter-insurgency akin to the Naga problem in the northeast. Hence a new force, like the Assam Rifles, was needed which could be permanently located in the area to counter the insurgents. He was of the opinion that using the army divisions for CI would be playing into Pakistani hands. He instead pushed for setting up 10 more RR sector HQs consisting of 30 battalions, or the equivalent of three divisions. It was also felt that in the bargain the army would have three additional battle-hardened divisions, ready for rear guard action during war. In 1994, the P.V. Narasimha Rao government gave a conditional go-ahead for a period of three years. By 1994 the RR had 5,000 troops, all of whom served in Jammu and Kashmir.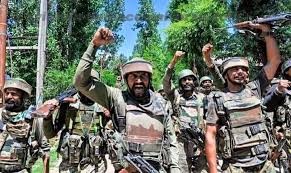 The officers and men came on deputation from all branches of the army including the Infantry, Army Service Corps, Corps of Electronics and Mechanical Engineers, Artillery, Engineers and Armoured Corps. The infantry provided 50% of the troops, services provided 10% and other arms provided 40%.  Under  General Shankar Roy Chowdhury's leadership a new formula was evolved on the basic composition of Rashtriya Rifles units. Each regiment was told to raise two Rashtriya Rifles battalions and provide 60 per cent of the strength for each unit. The rest 40 per cent were drawn from all services and arms. The Commanding Officer and his 2 IC were drawn from the same regiment. This meant a strong and gelled leadership.
Also unlike regular army units which were rotated out of the valley regularly, the RR concept was to rotate personnel after fixed periods of deputation. Currently this is 2-3 years. RR personnel receive 25% more salary than regular army personnel and additional benefits, thus often making it a coveted deputation. The RR units are permanently located in "sectors", with each sector being the equivalent of a brigade with three battalions. To create a distinct identity, the RR has its own dress, special insignia and flag logistics.
Rashtriya Rifles has a separate directorate in the Army HQs .
The RR units come under four "Counter Insurgency Force" (CIF) HQs. Each CIF is responsible for an area of the Kashmir Valley and Jammu Division. There were originally four CIFs, until the RR raised a fifth "Uniform" force in 2003–04:
Counter Insurgency Force (CIF) R / Romeo Force – Rajouri and Poonch
Counter Insurgency Force (CIF) D / Delta Force – Doda
Counter Insurgency Force (CIF) V / Victor Force – Anantnag, Pulwama, Shopian, Kulgam and Budgam
Counter Insurgency Force (CIF) K / Kilo Force – Kupwara, Baramulla and Srinagar
Counter Insurgency Force (CIF) U / Uniform Force – Udhampur and Banihal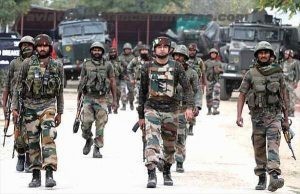 The units of Rashtriya Rifles have repeatedly proved their mettle and have earned  7 Ashok Chakras, 34 Kirti Chakras, 238 Shaurya Chakras, 1637 Sena Medals and 67 Chief of Army Staff Unit Citations.  The personnel in Rashtriya Rifles units come on deputation from all arms and services of Indian Army.  Gen Bipin Rawat, Chief of Army Staff is Honorary Colonel Commandant of Rashtriya Rifles.  He also has the experience of serving in Rashtriya Rifles.