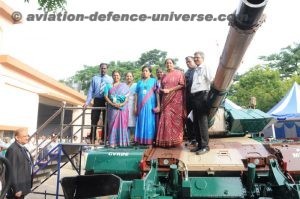 New Delhi. 15 October 2017. The first prototype of Arjun ARRV was handed over by Chairman & Managing Director, BEML,  Deepak Kumar Hota to Director, CVRDE; Director, CVRDE handed over one set of Landing Gear along with CEMILAC certification to Director, ADE; One set of Power Take Off Shaft to Director, GTRE; and Director, VRDE handed over 180 hp engine to Director, ADE.
The ARRV, which is expected to be deployed with two regiments, which use Arjun Main Battle Tanks (MBTs) in Rajasthan, is aimed at rendering comprehensive recovery and repair services to Arjun regiments and the mechanised ground forces in general.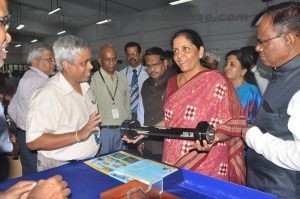 This was a part of the events organised when Defence minister Nirmala Sitharaman  visited Combat Vehicles Research & Development Establishment (CVRDE), Avadi, Chennai, CVRDE to witness the products and systems/technologies developed by CVRDE.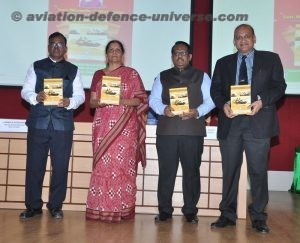 She has evinced keen interest in the advanced systems like Arjun MBT Mk-II, Arjun Armoured Recovery and Repair Vehicle (ARRV), Arjun Catapult, Unmanned Ground Vehicles, Sub-systems of Light Combat Aircraft –Tejas, Landing Gear, 180 hp engine for Rustom-II, 1000 hp Engine for T-72, 400 hp for BMP-II, besides Armoured Ambulance Tracked, Carrier Command Post Tracked, Bridge Laying Tank (BLT-72). The respective project leaders highlighted the uniqueness and specialities of their systems to the dignitaries.
The dignitaries assembled at CVRDE-Arjun Auditorium after the showcase of Tanks/ technologies. During this occasion, the Minister released a book  'Arjun MBT – an Indian Success Story' that describes the entire project of Arjun MBT Mk-I.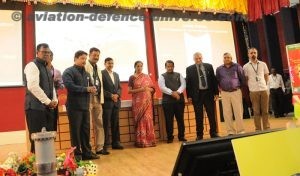 The Minister also launched the website, 'DRDO Robotics & Unmanned Systems Exposition' (https://rac.gov.in/druse) for inviting the young & talented minds of engineering community from all parts of the country to take part in Defence Challenging applications. She has also released a book titled 'Achievements of CVRDE' during the ceremony.
She  congratulated DRDO fraternity, in particular CVRDE, for its unstinted efforts and contributions for the defence self-reliance of the nation and expressed her confidence that DRDO will strive hard to empower the nation further with 'Make in India' concept.