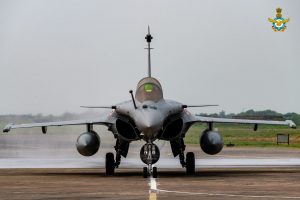 Inducted in 17 Squadron Golden Arrows at Ambala
New Delhi. 29 July 2020. The Rafales have finally landed in India. The first batch of five Indian Rafales which flew from France with a halt in UAE, touched down their home runway at Ambala Air Force Base just after 3 pm today. Indian Air Force gets sharper teeth and India a boost to its already formidable strength in securing the borders.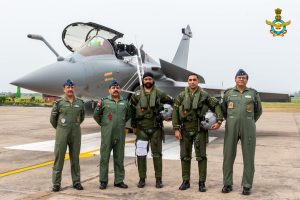 The five jets got the traditional water canon salute and were welcomed to the nation by the Chief of Air Staff Air Chief Marshal RKS Bhadauria and AOC-in-C WAC Air Marshal B Suresh . They met the pilots and congratulated them.
The aircraft will be a part of 17 Squadron, the "Golden Arrows", which was resurrected on 10 Sep 19. The Squadron was originally raised at Air Force Station, Ambala on 01 Oct 1951. 17 Squadron has many firsts to its credit; in 1955 it was equipped with first jet fighter, the legendary De Havilland Vampire. In Aug 1957, the Squadron became the first to convert on to a swept wing fighter, the Hawker Hunter.
The aircraft comes with a capacity to carry a range of potent weapons. European missile maker MBDA's Meteor beyond visual range air-to-air missile , Scalp cruise missile and MICA which is the only missile in the world featuring two interoperable seekers (active radar and imaging infrared) to cover the spectrum from close-in dogfight to long beyond visual range.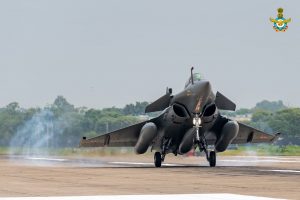 European defence major Thales has a complete set of equipment made by it on the Indian Rafale. These include the Actively Electronically Scanned Array (AESA) Antenna RBE 2 multifunctional radar, the Spectra electronic warfare system, optronics, the communication navigation and identification system (CNI), the majority of the cockpit display systems, power generation systems and a logistics support component.
The Rafale is fitted with twin M88-2 engines each capable of providing up to 50 kilonewtons (11,000 pounds-force) of dry thrust and 75 kN (17,000 pounds-force) with afterburners. The M88 enables the Rafale to supercruise while carrying four missiles and one drop tank. The aircraft also has the facility for a buddy-buddy refuelling that allows one fighter aircraft to lend its fuel to another while still in fight.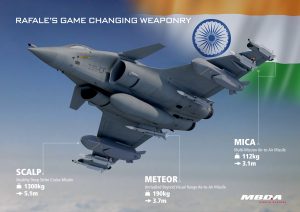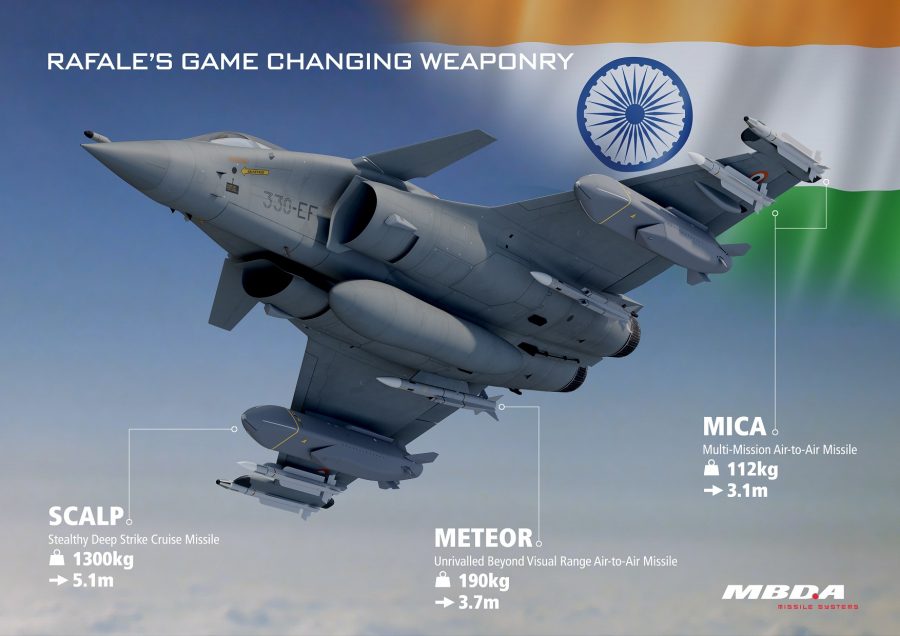 Some of the cutting edge technology that they've used includes single-piece bladed compressor disks and single-crystal turbine blades as well as ceramic coatings which is why it's so popular. The engines push the Rafale to attain a high speed of 1.8 Mach (1912 kmph) and a range of more than 3700 km with 3 drop tanks.
Various India-specific modifications, including Israeli helmet-mounted displays, radar warning receivers, low-band jammers, 10-hour flight data recording, infra-red search and tracking systems among others, are present in the aircraft.