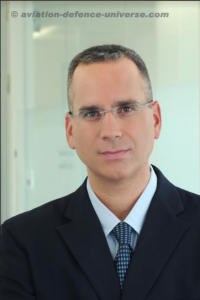 TEL AVIV. 15 January 2020. RAFAEL Advanced Defense Systems Ltd. announces it has appointed EVP Dr. Ran Gozali as head of the company's Land and Naval Systems Division. Dr. Gozali is replacing Moshe Elazar who has been appointed as CEO of Aeronautics, recently purchased by RAFAEL and Avichai Stolero.
Dr. Gozali (50 years old) holds a BSc. from the University of Be'er Sheva, an MSc. in electrical engineering from Haifa's Technion and a PhD. from Virginia Tech.
Dr. Gozali joined RAFAEL in 2004, and has since then served in various senior managerial-technological capacities. Between the years 2011-2014, Dr. Gozali served as CEO of Goji, and upon returning to RAFAEL, he was appointed as head of the company's R&D and Engineering Division, presiding over more than 2500 engineers and scientists.
RAFAEL'S Land and Naval Systems Division is responsible for the development, manufacturing and marketing of comprehensive and integrated solutions in the areas of precise missiles (SPIKE Family), maneuvering and NCW, survivability and armor protection (TROPHY), naval warfare systems and many more.
RAFAEL's CEO and President, Maj. Gen. (Ret.) Yoav Har-Even stated that Dr. Gozali brings with him vast managerial experience, as well as deep knowledge and through understanding of technological and operational requirements, a combination that will allow him to propel the division forward towards its goals and challenges in Israel and around the world.
Har-Even thanked Moshe Elazar for his numerous achievements as head of the division, and stated his confidence in Elazar's ability to utilize his knowledge, experience and talent to achieve his goals in his new role at Aeronautics under its new ownership.