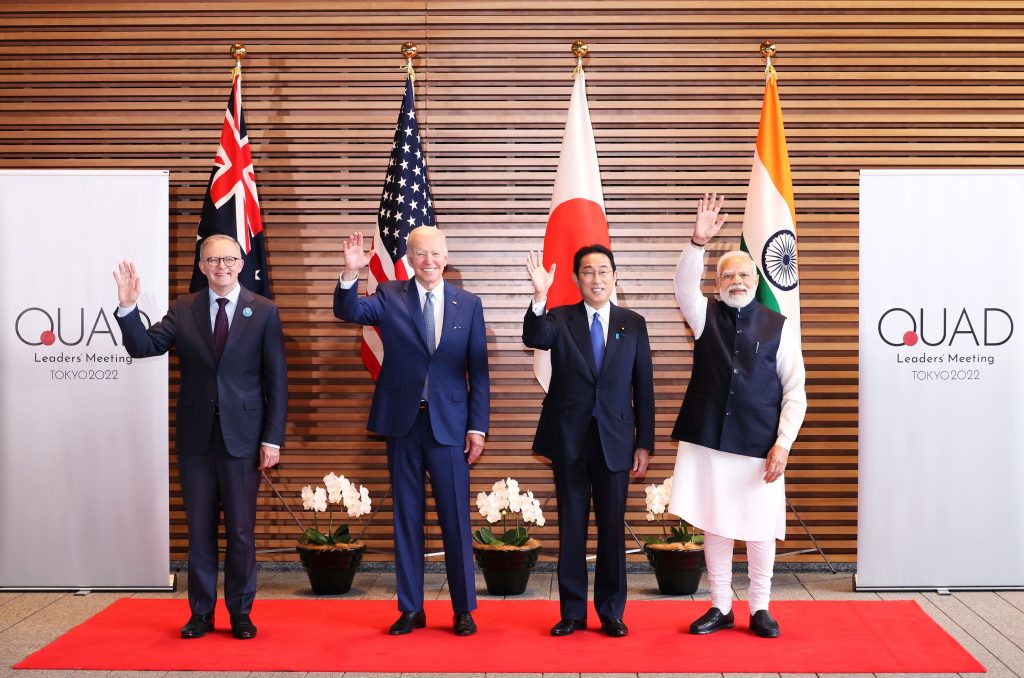 By Team ADU
New Delhi. 24 May 2022. Not only is this a QUAD with a difference but also a foursome with a difference with spirit being no-different. Australia's new man at the helm Anthony Albanese is on his first trip after becoming Prime Minister to meet his QUAD counterparts at the summit in Tokyo. President Biden, Prime Minister Anthony Albanese of Australia, Prime Minister Modi of India, and Prime Minister Kishida of Japan are advancing QUAD's ambitious and diverse agenda, including through a major new initiative to improve maritime domain awareness across the Indo-Pacific.
The leaders of the Quad nations—Australia, India, Japan, and the United States are meeting for the fourth time and the second time in person. Established in the wake of the 2004 Indian Ocean Tsunami to coordinate humanitarian assistance and disaster relief, the Quad has since become a leading regional partnership dedicated to advancing a common vision of a free and open Indo-Pacific through practical cooperation on diverse 21st-century challenges. With six leader-level working groups—on COVID-19 Response and Global Health Security, Climate, Critical and Emerging Technologies, Cyber, Space, and Infrastructure—the Quad is building habits of cooperation among our four countries that will support a more peaceful and prosperous Indo-Pacific.
"With the COVID-19 pandemic still inflicting human and economic pain around the world, tendencies for unilateral actions among states and a tragic conflict raging in Ukraine, we are steadfast. We strongly support the principles of freedom, rule of law, democratic values, sovereignty and territorial integrity, peaceful settlement of disputes without resorting to threat or use of force, any unilateral attempt to change the status quo, and freedom of navigation and overflight, all of which are essential to the peace, stability and prosperity of the Indo-Pacific region and to the world. We will continue to act decisively together to advance these principles in the region and beyond. We reaffirm our resolve to uphold the international rules-based order where countries are free from all forms of military, economic and political coercion," said the joint statement just released.
At the Tokyo Summit, the Quad leaders welcomed a major maritime initiative: the Indo-Pacific Partnership for Maritime Domain Awareness (IPMDA). In close consultations with regional partners, IPMDA will offer a near-real-time, integrated, and cost-effective maritime domain awareness picture. This initiative will transform the ability of partners in the Pacific Islands, Southeast Asia, and the Indian Ocean region to fully monitor the waters on their shores and, in turn, to uphold a free and open Indo-Pacific. Quad countries are committed to contributing to the region's maritime domain awareness—a fundamental requirement for peace, stability, and prosperity—through an investment in IPMDA over five years. The partnership will innovate upon existing maritime domain awareness efforts, rapidly bringing emerging technologies to bear for the greater good of the Indo-Pacific community.
"We will champion adherence to international law, particularly as reflected in the UN Convention on the Law of the Sea (UNCLOS), and the maintenance of freedom of navigation and overflight, to meet challenges to the maritime rules-based order, including in the East and South China Seas. We strongly oppose any coercive, provocative or unilateral actions that seek to change the status quo and increase tensions in the area, such as the militarization of disputed features, the dangerous use of coast guard vessels and maritime militia, and efforts to disrupt other countries' offshore resource exploitation activities. Individually and collectively, we will further strengthen our cooperation with Pacific island countries, to enhance their economic well being, strengthen health infrastructure and environmental resilience, to improve their maritime security," said the statement.
Quad countries are strengthening cooperation and pooling their collective expertise to exchange satellite data, enable capacity-building, and consult on norms and guidelines. They will strengthen their commitments to the free, full, and open sharing of space-based civil Earth observation data, and will jointly develop and promote the concept of Open Science in the region and globally.
The United States will coordinate with Quad partners on its cooperative civil Earth observation programs, to include the National Aeronautics and Space Administration (NASA) GLOBE and DEVELOP programs; the National Oceanic and Atmospheric Administration (NOAA) Community Satellite Processing Package (CSPP) and Satellite Proving Ground Flood Mapping Portal; as well as the U.S. Geological Survey (USGS) National Land Imaging Program.
As extreme weather events become ever more common in the Indo-Pacific, Quad partners will convene technical experts to drive new cooperation and set the stage for additional disaster mitigation and humanitarian assistance and disaster relief workshops or training among Quad partners who also intend to host a two-day workshop on implementation of the Long-Term Sustainability (LTS) Guidelines for Indo-Pacific countries focused on LTS implementation and on how LTS implementation can lead to positive changes in domestic policy, regulations, and outcomes.
Through the Quad Humanitarian and Disaster Relief Mechanism, Quad partners will be able to coordinate and mobilize civilian-led disaster assistance efforts, with support from civil defense and military assets when needed, to respond to disasters in the Indo-Pacific. The Partnership provides a framework for Quad partners to coordinate on joint disaster responses and develop a greater understanding of their respective HADR operations. Quad partners may provide joint or coordinated assistance as requested by an affected state in the crisis-alert, crisis-response, or post-crisis-review phases of a disaster. Quad partners will also be able to work together to improve crisis preparedness and early warning.
"We discussed our respective responses to the conflict in Ukraine and the ongoing tragic humanitarian crisis, and assessed its implications for the Indo-Pacific. Quad Leaders reiterated our strong resolve to maintain the peace and stability in the region. We underscored unequivocally that the centerpiece of the international order is international law, including the UN Charter, respect for sovereignty and territorial integrity of all states. We also emphasized that all countries must seek peaceful resolution of disputes in accordance with international law. The Quad is committed to cooperation with partners in the region who share the vision of a free and open Indo-Pacific. We reaffirm our unwavering support for ASEAN unity and centrality and for the practical implementation of ASEAN Outlook on the Indo-Pacific. We welcome the EU's Joint Communication on the EU Strategy for Cooperation in the Indo-Pacific which was announced in September 2021 and increased European engagement in the Indo-Pacific region," said the joint statement.