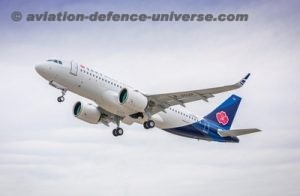 Hamburg, Germany. 29  October 2018. Pratt & Whitney and Qingdao Airlines celebrated delivery of the airline's first A320neo aircraft powered by Pratt & Whitney GTF™ engines. Pratt & Whitney will also provide Qingdao Airlines with engine maintenance through a long-term EngineWise® Comprehensive service agreement. Qingdao Airlines is the eighth GTF engine operator in China.
"Today is an exciting milestone for Qingdao Airlines as we take delivery of our first A320neo aircraft," said Mr. Wu LongXue, President of Nanshan Aviation Industry Group & President of Qingdao Airlines Co.,Ltd. "We believe the GTF engines will deliver the fuel savings, reduced environmental footprint, and quieter flight experience for our passengers that we have been looking forward to."
Qingdao Airlines, founded in 2013 and headquartered in Qingdao, Shangdong, China, announced its selection of the GTF engine to power an order of 18 firm A320neo family aircraft in November 2016. The airline offers domestic and international flight services to destinations across China and Northeast Asia.
"It is our pleasure to welcome Qingdao Airlines to the Pratt & Whitney family," said Rick Deurloo, senior vice president of sales, marketing and customer support at Pratt & Whitney. "The GTF engines offer proven economic benefits to support Qingdao's operations, and we are honored to be a part of their growing fleet. We look forward to a long and bright future ahead."
Since entering into service in early 2016, the GTF engine has demonstrated its promised ability to reduce fuel burn by 16 percent, to reduce NOx emissions by 50 percent to the regulatory standard and to lower the noise footprint by 75 percent.