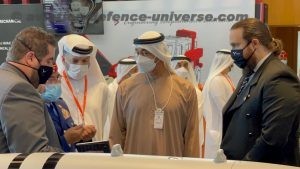 Abu Dhabi, UAE. 25 February 2021.     Crown Prince of Abu Dhabi and Deputy Supreme Commander of the Armed Forces of the United Arab Emirates, His Highness Sheikh Mohamed bin Zayed Al Nahyan, passed by the "PavilhãoBrasil" at the International Defense Exhibition and Conference (IDEX), which takes place in Abu Dhabi. The shelves of ABIMDE and several BIDS companies (Industrial Defense and Security Base) are on the place.
"Brazilian companies today had a great opportunity to show their potential and open new businesses not only with the United Arab Emirates, but also with other countries in the region", ponders ABIMDE's director of projects and institutional relations, Paulo Albuquerque. He also highlighted the importance of actions taken by the entity to bring BIDS closer to this market, such as the Brazilian Defende Day – UAE, held in November 2020.
"PavilhãoBrasil"
IDEX is one of the largest fairs in the Defense segment worldwide and a great window of opportunity for BIDS. The event, which ends on Thursday (25), has received a large audience and the movement in the "PavilhãoBrasil" has been excellent.
Avibras commercial director, Paulo G. Franklin de Abreu, highlighted the importance of being at IDEX. "For us, internationalfairs are excellentplatforms for consolidatingsalesabroad, in additiontoestablishinganinstitutionalpresenceandsolidifyinginsertion in the global market".
The good movement in the corridors of "PavilhãoBrasil", and the consequent generation of business, was also mentioned by Mac Jee's commercial manager, MaurícioAntoniazzi, highlighted the importance of being at IDEX. "At the event, we can strengthen contact with delegations and potential customers. In addition to maintaining a partnership with ABIMDE and other BIDS companies and Brazilian authorities".
The "PavilhãoBrasil" at IDEX is promoted by ABIMDE and Apex-Brasil (Brazilian Trade and Investment Promotion Agency), with the support of the Ministries of Defense and Foreign Affairs, in addition to the Arab Brazilian Chamber of Commerce (ABCC).
In addition to Avibras and Mac Jee, Atech, Avionics, CBC, Condor, Embraer, Gespi, Kryptus, M&K Logistics, Siatt and Taurus also participate in the exhibition.