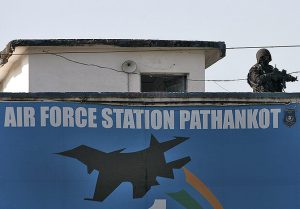 Ministry of Defence enhance financial powers of armed forces
New Delhi, Wednesday, 27 July 2017. Indian armed forces are all set to beef up the security of their installations both in peace and field areas. The Ministry of Defence (MoD) has decided
to delegate substantial financial powers to the Armed Forces for undertaking works for perimeter security of sensitive military installations. This has been done primarily to expedite the decision making process involved in the modernisation of the security apparatus of airbases and defence installations.
The Vice-Chiefs of the three Services have been empowered to place orders, procure equipment and carry out civil works without further seeking approvals of the MoD.
The financial delegation represents a significant jump in the powers currently exercised by the Services. The Defence Minister, Arun Jaitley has also fixed strict timelines to ensure that the works are undertaken on priority and in a time-bound manner to ensure full security of our critical defence assets.
On September 18, 2016, the perimeter of the Uri Army Base was breached by terrorists and earlier  on January 2, 2016 at the Pathankot Air Force Base. High time we learnt the importance of having state-of-the-art  security on the perimeter of our military installations.
India spends about $40 billion a year on defence, but the contribution toward improving base security through smart technology is minuscule. Not only this Indian forces still believe that age old methods of  creating a wall or a fencing or a moat can help push back terrorists. This decision of giving powers to Vice Chiefs and a recce of the modern facilities available to combat such security breaches might just help the defence forces to make themselves impregnable and increase hope in  the minds of the nation that the future will not see Uris and Pathankots.