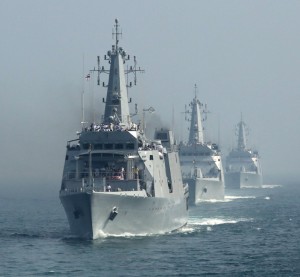 Vishakhapatnam. 05 February,2016.The nation tomorrow will wake up to a blitzkrieg of news on the biggest defence event of the 21st century till now and Vizag will come to a standstill as all eyes will be on the Bay of Bengal. The Supreme Commander of the Armed Forces, President of India, Pranab Mukherjee, will be reviewing the Naval Fleet. This will be the eleventh Fleet Review after Independence and the second one being conducted in India. 
After a 21-gun salute and the ceremonial Guard of Honour, the President embarked on the Presidential Yacht, INS Sumitra would sail  through 70 ships at anchorage off Visakhapatnam. The review will have a combination of ships from Indian Navy as well as frontline Navies from across the globe.
The ships of Indian Coast Guard and Mercantile Marine will also be participating. In this most formal of naval ceremonials, each ship dressed in full regalia will salute the President as he passes. The President will also be reviewing the Indian Naval Air Arm in a display of spectacular fly-past by several fixed wing and rotary aircraft comprising of 15 formations. In the final stage of the review, a mobile column of warships and submarines will steam past the Presidential Yacht. This display will also showcase the latest acquisitions of the Indian Navy. Further, several enthralling waterfront activities, a display by Marine Commandos and helicopter demonstrations will be conducted to mesmerize the viewers. 
The President will review the international fleet comprising of 75 frontline ships and submarines. Each ship will be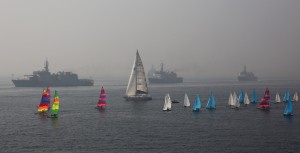 manned by her ship's company, dressing in white ceremonial uniforms. White caps will be doffed in unison in a grand salutation resounding the sound of 'Three Jais'  symbolising the spirit of camaraderie and bonhomie across the seas. The fly-past will comprise of 15 formations of 45 aircraft including two formations from the Indian Coast Guard. The latest acquisitions of the Indian Navy such as carrier borne Strike fighter MIG 29K, Long Range Maritime Reconnaissance aircraft, P8I and the AEW helicopter KM-31.
The President's Yacht is an indigenously built Naval Offshore Patrol Vessel, INS Sumitra will be lead the Presidential Column. The yacht will be distinguished by the Ashoka emblem on her side and flying of the President's Standard on the Mast. The spectators will be treated with enthralling display of water front activities by sail boats, water skiing, display by Marine Commandos and helicopter demonstrations.