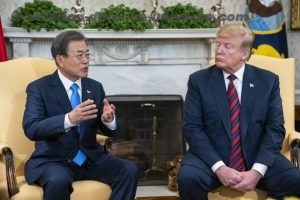 By Suresh Somu
Singapore. 16 April 2019. He will probably be over the "moon" if he gets to fire up the spark for a third meeting between the USA and North Korea. South Korea President Moon Jae-in is an optimistic gentleman who believes there's hope to reignite the recent Hanoi summit, which has been perceived to be a failure.
But President Moon shares the same optimism as US President Donald Trump that another more productive meeting with the North Koreans may well be on the cards.
Positively viewed as a key person who made the first Trump-Kim Summit possible, the South Korea President intends to finalise an amicable climax between USA-North Korea in many steps to promote global peace.
TAKING BIG RISKS
President Moon has even staked his presidency, as he faces increasing pressure at home to deliver results from his engagement with North Korea. Hence, getting the US and North Korea to engage again puts him in the most favoured position.
Recently, his approval ratings, which soared above 80 per cent after he brokered the first Trump-Kim summit, which took place in Singapore last June, has now taken a severe dip to 45 per cent in a poll done in March.
But adding to his woes, President Trump recently rejected his calls for planned confidence-building economic projects with Pyongyang. To Mr Trump, it wasn't the right time for signing off on sanction exemptions for inter-Korean projects. But nevertheless, he supports unspecified South Korean moves to bring humanitarian relief.
Despite the overly skeptics, President Moon said it was imperative to continue momentum towards a third summit. He said the abrupt ending in Hanoi was "not a source of disappointment but a part of a bigger process leading to a bigger agreement".
DISARM NUCLEARISATION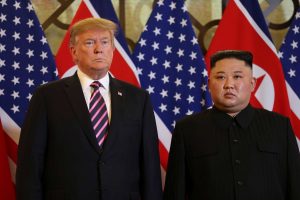 While it may be myopic to expect North Korea to disarm nuclearisation completely, analysts firmly believe that continued engagement between Mr Trump and Mr Kim would further solidify the bilateral relationship and potentially avoid any hostile reactions from either side.
On the positive end, Mr Trump has only spoken highly of Mr Kim despite the recent stalled February 27-28 talks held in Hanoi.
There's much behind-the-scenes work to be done, especially on President Moon's end, and analysts say that upcoming negotiations will not be a mere walk in the park.
There're some elements of defiance in both US-North Korea camps as the Americans push for North Korea to completely surrender its nuclear weapons.
PEACEFUL RESOLUTION
President Moon's immediate job will be to sincerely work towards a peaceful resolution in the US-North Korea standoff and he hopes his personal brand of diplomacy may well the crucial factor in bringing about a happy climax.
The Americans hope that their biggest carrot would be to tempt Mr Kim with the longer-term possibility of great economic opportunity to be a rising productive East Asian nation. Both President Moon and Mr Trump intend to heavily invest in bringing North Korea out of the cold.
The unsuccessful summit in Hanoi must be put aside as the two allies try to convince Mr Kim that future progress is the ultimate key.
If President Moon succeeds in this, he will surely feel over the "moon" in triggering the much-awaited a third meeting between the USA and North Korea.
While addressing the press at White House jointly with Moon, Trump reiterated, "My relationship is very good with, as you know, Chairman Kim. And I think that it will go on that way. We'll see. We'll probably know. But we'll be discussing that. We'll be discussing trade, military, military purchases. South Korea buys a great deal of equipment from us, especially military equipment."
He informed, "President Moon and South Korea have agreed to purchase a tremendous amount of our military equipment, from jet fighters to missiles, to lots of other things. And we make the finest equipment in the world by far, and we appreciate the purchase. It's a very large purchase. And we always appreciate that."
A third Kim-Trump summit could happen has been the mood of the American contingent. And it's step by step. It's not a fast process.
President Moon in response said , " And after you had met Chairman Kim in Singapore on June 12th, last year, we have witnessed a dramatic turnaround regarding the political situation on the Korean Peninsula. Previously, because of the repeated nuclear and missile test from North Korea, we saw that the military tension at the time had been at its greatest, and we were in a very precarious situation. However, since you met Chairman Kim and you initiated personal diplomacy with him, we saw the dramatic, significant reduction of military tension on the Korean Peninsula, and now peace has prevailed."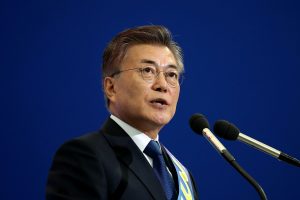 Trump ended by saying, " No, we want sanctions to remain in place. And frankly, I had the option of significantly increasing them. I didn't want to do that because of my relationship with Kim Jong Un. I did not want to do that. I didn't think it was necessary. As you know, a couple of weeks ago, I held it back. But I think that sanctions are, right now, at a level that's a fair level. And I really believe something very significant is going to happen. We could always increase them, but I didn't want to do that at this time."