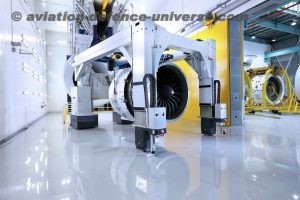 Singapore. 11 February 2020 . Pratt & Whitney today celebrated the one year anniversary of the overhaul capability for the GTF PW1100G-JM variant at its Singapore engine center, Eagle Services Asia (ESA). The line capability is part of the US$85 million modernization of the Singapore facility, which is one of three GTF engine centers in Asia Pacific. It is a joint venture between SIA Engineering Company and Pratt & Whitney, a division of United Technologies Corp.
The modernized facility is designed to handle multiple engine overhaul lines for a variety of engine models – PW4000 family, GP7200 and now the GTF PW1100G-JM engines. This includes reconfiguring ESA's engine test capability to accommodate the GTF engine model. Following the induction of the first GTF PW1100G-JM variant overhaul in January 2019, ESA is on track to more than double the number of GTF engines processed this year following its modernization.
"More than 60% of our global GTF fleet is currently flying in this region, and Asia Pacific is home to a number of carriers that operate GTF-powered A320neo aircraft in their fleet. It is therefore a strategic business investment for ESA to support the aftermarket needs of our customers for next generation engines and mature models alike. Building GTF repair and manufacturing capabilities in Singapore is a key focus for Pratt & Whitney. By building on our existing infrastructure, experienced workforce and established presence in the region for over 35 years, we have enhanced MRO capabilities in Asia Pacific to contribute to a strengthened global offering for our customers," said Brendon McWilliam, executive director, Aftermarket Operations, Asia-Pacific.
"The opening of the GTF line underscores Singapore's position as a leading MRO hub for the region and its contribution to the global aerospace value chain. We are excited to be a key part of Pratt & Whitney's efforts to Go Beyond for its GTF airline customers in the Asia-Pacific region," said Gian YiHsen, executive director, Conglomerates at the Singapore Economic Development Board. "This investment also creates new opportunities for our local engineers and technicians to be up-skilled and cross-trained on different engine platforms, and highlights the fulfilling career opportunities that the aerospace industry offers."
Adopting advanced technologies, automating some processes, going wireless and ensuring continuous learning and development for employees in its operations has further enhanced engine overhaul from disassembly to reassembly and testing, Leading expert trainers from Pratt & Whitney were also flown in to groom employees based locally on disassembly, assembly and testing as part of the company's knowledge transfer practice. In addition, benchmarking trips to Pratt & Whitney and other engine centers around the world were also conducted to strengthen the local knowledge base at ESA.
"Our customers for both the GTF and GP7200 engines, and existing PW4000 fleet have witnessed the benefits from our investments in an upgraded ESA facility to integrate technologies, automate operations and expand output. Beyond increasing productivity and efficiency, our success in up-skilling our workforce at the Singapore engine center enables us to further support growing MRO needs for the Asia Pacific region in the coming years, against a backdrop of rising travel demand by consumers here," said Ying-Kiong Yip, general manager, Eagle Services Asia.
Singapore is a member in the global network of MRO facilities that service the GTF engines. The GTF MRO network spans three continents, comprised of engine centers operated by the industry's leading MRO companies. They include Pratt & Whitney, MTU Aero Engines (MTU), Japanese Aero Engines Corporation (JAEC), Lufthansa Technik (LHT) and Delta TechOps.