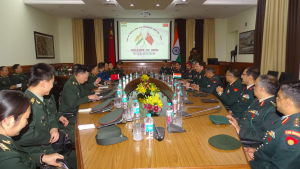 New Delhi.
22 Feb 2017. 
A 15 member delegation from Western Theatre Command of People's Liberation Army, China is on a five day visit to India from 21 to

26 February 2017

. The delegation is being led by Major General Zhao Jin Song, Vice Chief of Staff of Headquarter Western Theatre Command, Chengdu, China.
With New Delhi, Agra and Kolkata on the itinerary, the Chinese delegation called on senior Indian Army officers dealing with border issues at Army Headquarters on 21 February. The two sides exchanged views on wide ranging issues and agreed that peace and tranquility on the border is an important guarantor for development and continued growth of bilateral relations. The leaders of two delegations discussed the importance of having regular bilateral exchanges and additional Border Personnel Meeting points. 
This visit is continuation of the enhanced engagements between the two Armies which also saw Western Theatre Commander General Zhao Zongqi visit India in Dec 2016.