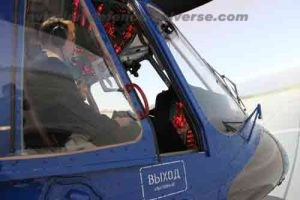 Ulan-Ude. 21 February 2022. The crew of the Berkut State Airlines from Kazakhstan underwent annual retraining under the supplemental professional training programs for the Mi-171A2 helicopter. It was held at the aviation training center of the Ulan-Ude Aviation Plant of the Russian Helicopters Holding Company (part of the Rostec State Corporation). The training program included 60 hours of theoretical classes.
"Such training allows us to improve our skills and knowledge gained during initial Mi-171A2 helicopter crew trainings held as part of the supply contract. The authorized body of civil aviation of the Republic of Kazakhstan has validated the enterprise's aviation training center. According to the Kazakhstan aviation rules, pilots from this country should annually improve their skills in order to ensure flight safety", said Nikolay Kolesov, Director General of the Russian Helicopters Holding.
The first Mi-171A2 helicopter was delivered to Kazakhstan in early 2019. The Mi-171A2 helicopter is the most modern modification of Mi-8/17 type. The use of a digital on-board equipment package on the Mi-171A2 helicopter, designed according to the "glass cockpit" concept, makes it possible to reduce the crew to two members.
During the training, special attention was paid to the design and flight operation of the Mi-171A2 helicopter, its systems and units as well as the rotorcraft's flight characteristics. The training program included study of aviation and radio-electronic equipment, practical aerodynamics, navigation, aviation meteorology, aviation communications and radiotelephony, and flight safety management systems.