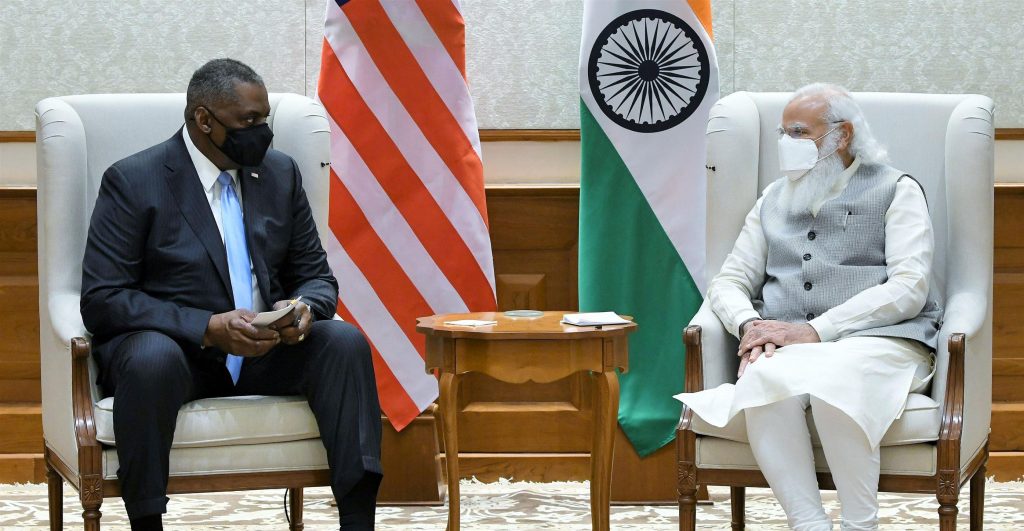 U.S. Secretary of Defense Lloyd James Austin III to reiterate strategic ties
Sends message of defence partnership & geo-political friendship
By Sangeeta Saxena
New Delhi. 19 March 2021. Diplomatic, geo-political and strategic whispers were heard in the corridors of South Block, as Pentagon's chief and US Secretary of Defense Lloyd James Austin III met Prime Minister Narendra Modi and Nationaal Security Advisor on Day 1 of his three days trip to India.
And just when he was meeting them his tweet , "Thrilled to be here in India. The breadth of cooperation between our two nations reflects the significance of our major defense partnership, as we work together to address the most pressing challenges facing the Indo-Pacific region," was trending. All eyes are definitely on this visit, specially when he is coming to India after meeting strong allies Japan and South Korea after brain storming Chinese aggressiveness.
Lloyd J. Austin III is the 28th secretary of defense, sworn in on Jan. 22, 2021. A graduate of the U.S. Military Academy at West Point, N.Y., Austin served 41 years in uniform, retiring as a four-star Army general after three years as commander of U.S. Central Command. He is the principal assistant to the President in all matters relating to the Department of Defense and serves on the National Security Council. And who better than a veteran for the job he has at Pentagon.
The warmth was palpable between the two . Prime Minister Narendra Modi welcomed the warm and close relationship between the two countries, which is rooted in shared values of democracy, pluralism and commitment to a rules-based order. He outlined his vision for the strategic partnership between the two countries and emphasized the important role of bilateral defence cooperation in India-US ties. Secretary Austin reiterated the U.S. Government's continued commitment towards strengthening the bilateral defence relations between the two countries. He expressed US's strong desire to further enhance the strategic partnership for peace, stability and prosperity in the Indo-Pacific region and beyond.
Austin's 41-year career in the Army included command at the corps, division, battalion, and brigade levels. He was awarded the Silver Star for his leadership of the Army's 3rd Infantry Division during the invasion of Iraq in 2003. Seven years later, he assumed the duties of Commanding General of United States Forces – Iraq, overseeing all combat operations in the country. After a tour as the Army's Vice Chief of Staff, Austin concluded his uniformed service as the Commander of U.S. Central Command, responsible for all military operations in the Middle East and Afghanistan. In this assignment, he led U.S. and coalition efforts to battle ISIS in Iraq and Syria. He retired from the Army in April, 2016. And Afghanistan will definitely be on his agenda of talks with his Indian counterpart Rajnath Singh. In addition he would keep military exercises, regular dialogues , agreements on military interoperability , advanced intelligence-sharing, enhanced role for India in both South & East China Seas, India's one-upmanship in the Indian Ocean and host of agenda points which only a soldier can think of .
Since his retirement from military service. Austin served on the Boards of Directors for Raytheon Technologies, Nucor, and Tenet Healthcare. And will definitely have an aim to ensure that US defence sales to India which is over $20 billion should go ahead keeping on mind that India has the world's third largest military budget. With US's stress on a safe and secure Indo-Pacific, Austin might have got some more technologies and equipment on the platter for India to acquire. Fo all we know there might be a new wish list put forth by India and US might just have the solution.
Secretary Austin will definitely be President Joe Biden's ambassador to convey that US would be the partner of choice to India to procure capabilities and a friend in need when adversaries try to push and pull India. Reaffirm India's prominent place in America's Indo-Pacific strategy. He might also suggest ways to India to navigate CAATSA restrictions for procuring S-400 Air defence System from Russia. DTTI surely be an issue and probably this visit will see it's operationalizing. Not to forget the Logistics Exchange Memorandum of Agreement (LEMOA); the Communications Compatibility and Security Agreement (COMCASA); the Basic Exchange Cooperation Agreement (BECA); the Industrial Security Annex (ISA); Helicopter Operations from Ships Other Than Aircraft Carriers (HOSTAC); Strategic Trade Authorization-1 (STA-1) status; the 2+2 defence and foreign ministers dialogues, will also be discussion points.
Indian defence forces have a list of American products part of their existing power, which cannot be ignored. C-130Js, C-17s, P8-Is, Apache attack helicopters, MH-60R Seahawk multi-mission helicopters, Sig Sauer assault rifles, and M777 ultralight howitzer artillery guns and lot more can be got. The purchase of 30 armed MQ-9 reaper drones for $3 billion, 10 each for the three branches of its military, has also been in discussion.
And with the mood prevailing post his Tokyo and Seoul visits Austin might condemn China for it's aggressiveness at India-China borders. He might also have a suggestion for better India-Pakistan relations keeping Indian interest in mind. And ofcourse last but not the least India's enhanced role on QUAD activities. When Austin meets his Indian counterpart Rajnath Singh , his platter will be full.
The two will also review existing bilateral and multilateral ties. The agenda this time will be global and critical to Joe Biden's plan of action in which India has an important role and place. Precisely two months into the White House Joe Biden has chosen India for his Secretary of Defence's first multinational tour. He holds the Quad summit with Indian Prime Minister a week back and plans a strategic interaction with India for his Pentagon Chief a week later. The message is clear – India is a major ally for Biden's US ­and he wants the world and Asia in particular to understand.