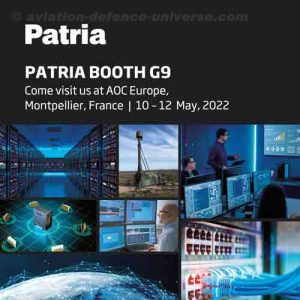 Montpellier, France. 10 May 2022. Patria showcases its wide range of Intelligence and Surveillance products and services at AOC Europe.
Patria ARIS is an ELINT (electronic intelligence) system for gathering strategic information on radars, their location and their operational tactics, as well as building, updating and validating the emitter databases storing knowledge of radar waveforms.
ARIS-E is an ESM (electronic support measures) system providing real-time tactical situational picture by intercepting, recognizing, geolocating and tracking radar platforms.
ARIS and ARIS-E together deliver a complete solution for both strategic and tactical ELINT/ESM operations mastering the most modern signal environment.
Patria MUSCL is a passive radar system providing resilient, covert and easily deployable air surveillance in standalone mode as well as in networked mode using multiple MUSCL stations. The system provides affordable area and point surveillance for various applications such as military air surveillance, border control, critical infrastructure protection and drone detection.
Patria CRAWLR is an OSINT software product providing targeted and discrete information gathering from a wide range of sources, including websites, social media, and the dark web. It also offers a variety of search and filtering tools, image recognition and categorization, and machine translation capabilities to support data analysis.
Patria CANDL provides a single data link solution for communications requiring high reliability, such as UAS payload data and C2. It enables air-to-air and air-to-ground Ad Hoc Networking as well as relaying for BLOS capability, thus enabling capabilities such as MUMT – Manned Unmanned Teaming – and LVC – Live Virtual Constructive – training.
Patria SONAC DTS is an ASW Sonar system offering both active and passive modes of operation with two separate wet-end sub-systems, VDS and TAS, which can be used simultaneously.
Patria SONAC ACS acoustic mine sweep is specially designed for sweeping influence mines with advanced acoustic triggering. Its compact, lightweight size is designed for use with unmanned craft.