Fighting human right violations and exploitation of Pashtuns
By JK Verma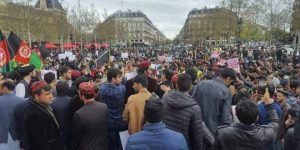 New Delhi. 04 February 2019. When hundreds of Pashtuns gathered in Paris France to support Pashtun Tahafuz Movement ( PTM )in April 2018, it made many Pakistan watchers turn their heads but not in surprise. Amongst these were some famous human Rights defenders from different communities . Fazal-ur Rehman Afridi the European settled Pashtun leaders in his speech appealed to world leaders to exert pressure on Pakistan to stop the Genocide of Pashtuns. Munir Mengal , the President, Baloch voice Association Paris also attended and addressed the Rally. The voice was steady and strong showing the simmering of a volcano ready to erupt.
In May 2014 eight students of Gomal University in Dera Ismail Khan in Khyber Pakhtunkhwa protested that landmines must be removed from whole of Federally Administered Tribal Areas (FATA) including Waziristan and especially from Mahsud areas. The agitation was named as Mahsud Tahafuz Movement, later the name was changed to Pashtun Tahafuz Movement (PTM).
The agitation got required prominence, when Nageebullah Mehsud and his associates were killed in a fake police encounter at Karachi in January 2018 by so called encounter specialist, Rao Anwar Senior Superintendent of Police, Malir. A high-level inquiry committee headed by senior police officers probed the encounter and declared that the encounter was fake and Nageebullah Mehsud was neither a terrorist nor he had terrorist tendencies. He and his associates were killed in cold-blood as they were hailing from Waziristan. SSP Anwar alleged that Nageebullah was active member of Tehreek-i-Taliban Pakistan (TTP) but TTP spokesman mentioned that the claim of Anwar was "baseless" and Nageebullah had no link with TTP. The human right activists claim that in past Anwar killed several leaders and workers of Mohajir Qaumi Movement (MQM) in fake encounter and he was a fake encounter specialist.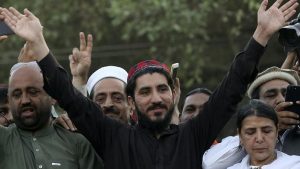 A human right activist of Waziristan namely Manzoor Ahmad Pashteen was the main force behind the agitation and he was assisted by Ali Wazir and Mohsin Dawar. The PTM is against the exploitation and mistreatment of Pashtuns in the country. The foremost object of the PTM was to depict the miserable plight of Pashtuns. The PTM organised rallies at several places including Peshawar, Quetta, Lahore, Karachi, Swat, Bannu, Dera Ismail Khan and Swab. A big rally was organised on 13th January at Tank to observe the first anniversary of the fake encounter of Mehsud. Government took widespread measures so that people fail to join the rally. The leaders were arrested and sympathisers were prevented to attend the rally, but the rally was a great success and attended by large number of Pashtuns.
Pashtuns are the second-largest representation in Pakistan's defence forces and resides both sides of Afghanistan-Pakistan borders. Pashtuns of Afghanistan demand a greater Afghanistan including Pashtun areas of Pakistan. Afghanistan never recognised 2,430 Kilometers Durand Line which is an international border between Pakistan and Afghanistan. The rise of Pashtun nationalism is the cause of worry for Islamabad as it may turn into a secessionist movement.
Pakistan is already suffering from more than one secessionist movements including demand for separate Balochistan and Sindh. The residents of Pakistan Occupied Kashmir (POK) also want to secede. Gilgit and Baltistan are Shia dominated areas and are afraid of rising Wahhabism and Salafism in Pakistan. Muhajirs are ill-treated in Pakistan and demand more autonomy and separate state for them.
Pakistan and Afghanistan border is in turmoil since the Soviet invasion on Afghanistan. Pakistan armed forces have launched several operations with decorative names to exterminate the terrorists including Al Qaeda and Taliban. However, these operations caused innumerable atrocities including mass murders, disappearances, scarcity of essential items to the local residents who were mainly Pashtuns. They had genuine grievances against the government and PTM works as an important platform to portray their resentment.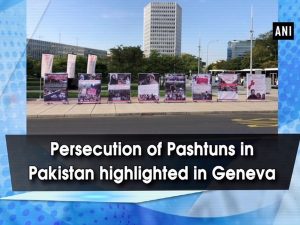 The PTM leaders demanded the arrest of Rao Anwar and initiation of judicial enquiry of the fake encounter of Najeebullah. Leaders also demanded Judicial commission should investigate all extra-judicial killings. Forced disappearances should be stopped and all missing persons must be put before the courts, the abolition of oppressive Frontier Crimes Regulation (FCR), stopping of maltreatment by security forces of Pashtuns in security checkpoints and removal of landmines from FATA.
Islamabad was worried about PTM and agreed for its few demands. The draconian FCR was replaced by FATA Interim Governance Regulation 2018. SSP Khan had to go on hiding and Alamzeb Mehsud and Ali Wazir were elected as Member Parliament.
Pashtuns' major grievances are with the army as the army launched the so-called anti-terrorist operations which disturbed them most, hence the leaders of PTM criticised the deep state vociferously. The blatant criticism exasperated the deep state, and on their instructions, Pakistani media stopped the coverage of PTM. Pakistani army also alleged that PTM is helped and financed by anti-Pakistan and foreign forces especially by Indian intelligence agencies. The pro-establishment media painted PTM as anti-national and they wanted to destabilise Pakistan on behest of foreign forces. The present Imran Khan government which came to power with overt and covert support of army has given no attention to PTM. Pashto language Radio Mashaal which was funded by US was banned as it was giving coverage to PTM. "Deewa" a website maintained by Voice of America and was heard by Pashtun as it was covering activities at Pakistan- Afghanistan border was also banned by Islamabad. The security agencies filed several fake cases against the journalists who were reporting about the meetings and rallies of PTM.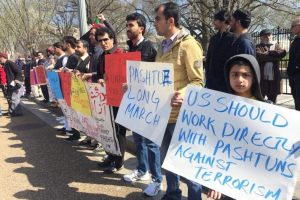 Several restrictions were imposed on the leaders of PTM, Ali Wazir and Alamzeb Mehsud were prohibited to go to Dubai to attend a Pashtun Cultural event. Mehsud was arrested on the charges of rioting and spreading hatred in Karachi.
The administration could not curb the public sentiments and irrespective of grave sanctions imposed on the leaders and sympathisers of PTM, large number of Pashtuns attended the first anniversary, of the killing of Nageebullah Mehsud, at Tank in Khyber Pakhtunkhwa. In the meeting Pastheen gave fiery speech but there was very little coverage in the media. Pakistani media has not covered due to the fear of deep state while the interest of International media vanished. The masses were disappointed with Imran government and large gathering at Tank proves the same.
PTM organised a big rally at Wana, the capital town of South Waziristan on 3rd June 2018. Few unidentified gunmen attacked the rally and killed more than three PTM supporters and several others were injured. Pashteen claimed that the attackers were from TTP and they killed innocent PTM supporters on behest of sinister Inter Services Intelligence. Nonetheless Major General Asif Ghafoor, the Chief Spokesman of Pakistan Army alleged next Day that PTM is used by "enemies of Pakistan". Army blames that PTM is working against the interests of Pakistan on behest of Afghanistan and Western neighbour has launched a 'Hybrid war' against Pakistan and PTM is used by them.
PTM has also threatened that if army does not end the exploitation of Pashtuns, they will take the case to United Nations. Pakistan took few measures to redress their grievances, but it is too less and too late. Government should make tangible efforts to mollify the second largest ethnic group otherwise the situation will soon be out of hand.
The leaders of PTM claim that their movement is purely peaceful, and the demands are just, while the government is abusing its powers and branding them as traitors. The taxpayer's money is wasted, Taliban are paid to disrupt peaceful demonstrations. There are reports that security forces are trying to activate terrorists and foment sectarian divide to curb the peaceful movement of PTM. The stooges of administration are organising "Pakistan Zindabad Movement" just to counter PTM and blaming them as "foreign agents".
Islamabad should take the PTM seriously as the movement is started from grass-root and is challenging the constitutional validity of Islamabad in FATA region. Although the conventional media is not giving coverage to PTM, but it is getting support from social media and few organisations namely Jamiat Ulema-i-Islam (F), Lal Salaam, International Marxist Tendency (Pakistan Chapter) have extended their support to PTM.
Deep State as well as Imran Khan must appreciate that although the PTM movement is non-violent so far but if it turns violent then it will be difficult for law enforcing agencies to handle it. There is rampant gun culture in Pashtun areas and large number of Pashtuns have fire-arms with them.
Punjabi dominated Pakistan army should stop exploitation of other nationalities and blaming that all movements are foreign sponsored and are against the country. In past army painted the movement of East Pakistan as foreign sponsored and exploited the residents so much that they revolted, and Pakistan was dissected. Again, when MQM launched movement against the exploitation and maltreatment, Pakistan administration blamed foreign powers and crushed the movement and made no genuine efforts to solve their legitimate problems.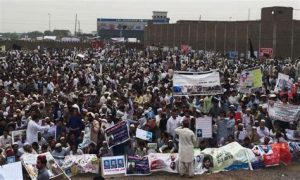 In Pakistan all nationalities are exploited and ill-treated by Punjabis, nonetheless degrees may differ. The worst sufferers are Balochis and Muhajirs but Pashtuns which are the second largest ethnic group and constitutes more than 14 percent of the population are also oppressed and there are blatant human right violations.
Pakistan which has launched a low intensity war against India and infiltrating terrorists especially in Kashmir and wants to stall puppet government in Afghanistan feels that all other nations must be doing the same. In fact, Punjabi dominated Pakistan should resolve legitimate problems of all other nationalities so that Pakistan comes out from the economic crisis otherwise PTM can prove disastrous for the country as other disgruntled nationalities would also start agitation against the domination and exploitation of Punjabis.
(Jai Kumar Verma is a Delhi-based strategic analyst and member of United Services Institute of India and Institute for Defence Studies and Analyses. The views in the article are solely the author's. He can be contacted at editor.adu@gmail.com)