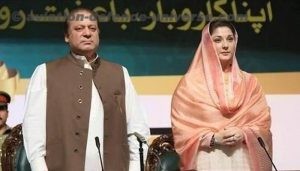 By JK Verma
New Delhi. 13 July 2018. The powerful 'Deep State' of Pakistan which controls the politics of the country has diluted the political parties with ulterior motive. The general elections are just few days away but the mainstream political parties of the country are in disarray. Pakistan Muslim League (PML-N) was constituted by Nawaz Sharif in October 1993, on behest of the then ruler General Zia-ul-Haq to challenge Benazir Bhutto and her party Pakistan Peoples Party. PML (N) is a centre-right conservative party which was in power but all powerful Pakistan army overthrew Nawaz Sharif with the help of judiciary.
The judiciary not only deposed Sharif but also sentenced ten years of rigorous imprisonment to him, his daughter Maryam was sentenced for seven years and her husband Capt (Retd) Muhammad Safdar sentenced for one year while Hassan and Hussain sons of Sharif were declared absconders. In this way the Deep State which does not want Nawaz Sharif and his family to win elections disqualified all important family members through judiciary. Besides rigorous imprisonment heavy fines were also imposed on Sharif and his daughter.
Nawaz Sharif is a mass leader hence in 2014 when he became Prime Minister after winning the elections the Inter Services Intelligence (ISI) with ulterior motive to weaken him assisted Imran Khan and Tahir-l-Qadri of Hizb-ut-Tehrir to launch a powerful agitation in Islamabad. Sharif proved much stronger and initiated criminal action against former Army Chief General Musharaff. Nawaz also tried to inculcate friendly relations with India which Pakistan army does not approve. The Deep State alleged that Nawaz has employed R&AW agents in his factories and did money laundering through India. This time Deep State connived with judiciary and the latter has not only deposed Sharif but also awarded sentence of imprisonment to all his close family members. The analysts feel that five times married Shahbaz Sharif the present Chief of PML (N) is more acceptable to Deep State then Nawaz Sharif.
The PPP, which was founded by Zulfikar Ali Bhutto in November 1967, is a left-wing socialist progressive party. Once it was the most popular political party and ruled the nation four times, however at present it is in jeopardy. The current election will be litmus test of Bilawal Bhutto who is not in good terms with his father Asif Ali Zardari.  The vote bank of the party has considerably evaporated and in 2013 elections party's performance was very dismal and most of its candidates were defeated.
Imran Khan's Pakistan Tehreek-e-Insaf (PTI) which is close to Pakistan army is in shambles and cricketer turned politicians is in trouble because of his former wife. The powerful Jang group had also put a legal suit of one billion rupees and an unconditional apology against Imran Khan.
Besides national parties the traditional Islamist political parties as well as regional political parties are also in muddle. Jamiat Ulema-e-Islam Fazal (JUI-F), Jammat-e-Islami though outwardly constituted an electoral alliance but internally there are severe differences. Not only this newly constituted extremist parties like Tehreek-e-Labaik Ya Rasool Allah and Allahu Akbar Tehreek would make a sizeable dent in the vote-bank of Islamic parties. Although these Islamic parties could not get majority votes in the elections but they always gave fiery speeches against India, and minorities especially Hindu minorities.
The Muttahida Qaumi Movement (MQM) which was a prominent party of Urdu speaking migrants from India was divided by sinister ISI and at present its founder leader Altaf Hussain has no control over the party and party lost its following. 
Political parties in Balochistan are also in tatters and the province is suffering from secession as Pakistan security forces have crushed the movement mercilessly by exterminating large number of Balochis.
Pakistan army which is ruling the country from its independence directly or indirectly does not want that the roots of democracy strengthen in the country. The Deep State also wants a weak prime minister which works under the command of authoritative Pakistani army.  
The creepy ISI is supporting Hafiz Muhammad Saeed co-founder of Lashkar-e-Toiba (L-eT) and Chief of another terrorist outfit Jama'at-ud-Dawa (J-u-D). He is the mastermind of 2008 Mumbai attacks in which approximately 166 persons were killed and more than 600 were injured. In April 2012, US announced a reward of $ 10 million on Hafiz Saeed but as he is a protégé of the Deep State no worthwhile action was taken against him and he was released in November 2017. Saeed is the most wanted terrorist in India but as he has the backing of Pakistan army he moves freely, addresses rallies and delivers anti- US, anti Israeli and anti-India speeches.
Hafiz Saeed has constituted a new political party with the name of Milli Muslim League (MML) although the Election Commission of Pakistan (ECP) refused to recognise MML overtly because of the report of interior ministry that MML is an offshoot of J-u-D which is proscribed under UN resolution. However MML was not enrolled because of anticipation of strong adverse reaction in international arena.
J-u-D is a frontal organ of L-e-T and its candidates would be contesting elections on the tickets of a dormant organisation namely Allah-o-Akbar Tehreek's (AAT). Hafiz Saeed will not contest the elections as he is not sure of the mood of silent majority of the country and if he loses the election his reputation will be smashed but about 265 J-u-D candidates including son and son-in-law of Hafiz Saeed would be contesting forthcoming elections scheduled to be held on July 25, 2018. Out of 265 seats J-u-D would contest on 80 National Assembly (N.A.) and 185 seats in provincial assemblies. Nevertheless main focus of the party will be on Punjab province as the party would contest 50 N.A. and 152 provincial assembly seats.
The release of Hafiz Saeed and J-u-D fielding its candidates in general elections strengthens Islamabad's contention that other's terrorists are not their terrorists and that was the reason that Deep State continued supporting al Qaeda, Osma Bin Laden, Hafiz Saeed, Haqqani network and Afghan Taliban. It also explains their distinction between 'Good' and 'Bad' terrorists and their disinclination to act against L-e-T, J-u-D and other terrorist outfits carrying out terrorist activities in India and Afghanistan.
The analysts adhere that although judiciary under instructions of Military deposed Nawaz Sharif and disqualified all his family members from contesting elections but the popularity of Nawaz Sharif has not dwindled much. Nawaz and Maryam both are in London and analysts claim that if they return to Pakistan and campaign for the party, PML (N) will get sympathy votes and can again form the government. The party will certainly acquire more votes in Punjab province both in national as well as in provincial elections. It is expected that either there will be a hung parliament or PML (N) will be able to secure a majority in 342 seats National Assembly (direct elections are for 272 seats only while 70 seats are reserved for women and religious minorities.) PML (N) won Lahore and Lodhran seats in the recently held bye elections.
In case no party gets the clear majority there will be a problem as no two parties out of three main national political parties namely PML (N), PPP or PTI would form a coalition government. In this case Hafiz Saeed's party can form a government with PTI as Imran Khan has cordial relations with the Deep State. The analysts claim that either the elections will be rigged so that PML (N) does not get the majority or in case elections are rigged partially then a coalition government of Imran Khan and Hafiz Saeed would be constituted. Imran Khan whose life ambition is to become Prime Minister of the country can also be fulfilled. In past he weakened Nawaz Sharif and his party with Tahirul Qadri. Now he can take help of regional parties like MQM, few Islamic parties including Parvez Musharraf and can form a government.
The most important point in the elections is whether polls are rigged and if rigged than how much? If the polls are totally manipulated than there are no chances of PML(N) coming to power and Deep State will make a puppet as the Prime Minister. If polls are partially rigged and PML (N) gets majority then Deep State may agree on the name of ShahBaz Sharif. The sinister ISI may also make efforts of dividing PML (N) and former interior minister Chaudhry Nisar Ali Khan was ready to revolt but for the time being party was able to impede the rebellion but it may take place before or after the elections. The 2018 elections are very important and Deep State will certainly rig the elections to have the Prime Minister of its choice.
(Jai Kumar Verma is a Delhi-based strategic analyst and a retired senior intelligence officer. He is also member of United Services Institute of India and Institute for Defence Studies and Analyses. The views in the article are solely of the author. He can be contacted at editor.adu@gmail.com)