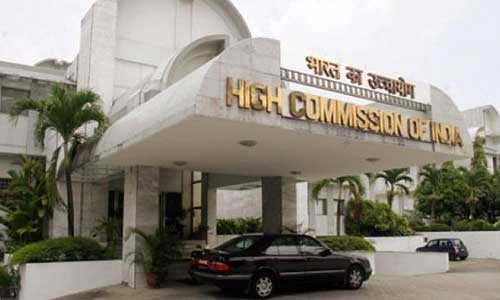 Two Indian high commission staffers return after missing for twelve plus hours
Pakistan police detains , keeps a silence and then releases them
By Sangeeta Saxena
New Delhi. 15 June 2020. Two officials of Indian High Commission in Islamabad went missing this morning, for hours no information about their whereabouts was given to the High commission, then they were said to be with the police detained for a hit & run accident and as we were going into print the news came that they had been handed over to the High Commission. A twelve hours plus drama created by Pakistan ended.
Two Central Industrial Security force(CISF) drivers posted in the Indian High Commission in Islamabad went missing this morning around 8.30 AM Pakistan Time, while on their way to the airport on an official duty. When their phones were not reachable for six hours, the High commission panicked and complained. They were in the official BMW  and from what the Pakistani media has been reporting , they were picked up for a hit and run case which is nothing else but a cock and bull story. Indian Ministry of External Affairs had summoned Pakistan's Chargé d'Affaires who is the officiating High Commissioner ,Syed Haider Shah and told in strong terms that the two officials should be returned and not harassed.
The Pakistani media crediting the news to a Pakistan Ministry of Foreign Affairs letter, identified the two staffers as Dwimu Brahma and Paul Selvadhas who had arrived in the country in 2017 and were non-diplomats. According to the FIR registered at the Secretariat Police Station at Islamabad, Dawn.com stated that the two officials ran over a pedestrian and subsequently attempted to flee. The FIR also stated that counterfeit currency notes were found in the possession of one of the officials. And this is an absolutely concocted story. It was aggressive harassment and tit for tat diplomacy gone wrong by Pakistan. This was a retaliation to India declaring two Pakistani officials persona non-grata in spying charges at New Delhi recently.
It is no news that Pakistan has never taken the Vienna Convention on Diplomatic Relations of 1961 seriously. It is an international treaty that defines a framework for diplomatic relations between independent countries. It specifies the privileges of a diplomatic mission that enable diplomats to perform their function without fear of coercion or harassment by the host country. This forms the legal basis for diplomatic immunity. Generations of Indian diplomatic and non-diplomatic staff posted in Pakistan have always alleged that they have been stalked from the moment they step out of their homes and mental harassment of some one following them all the time is routine. And cases of physical torture are innumerable.
Irrespective of who is the Prime Minister, despite claims by the Pakistani governments down the decades, that it wants to better ties with India, Indian diplomats stationed in Pakistan are ill-treated continuously and live in perpetual fear. And today was no exception.