· Genuine effort or façade?
By JK Verma
New Delhi. 06 March 2017. Operation Zarb-i-Azb in North Waziristan along the Pakistan-Afghanistan border (2014) is now a thing of the past. The all powerful Pakistani Army has recently launched Operation Radd-ul-Fassad.
Major General Asif Ghafoor, Director General of the Inter Services Public Relations (ISPR) media wing of Pakistani army announced that Operation Radd-ul-Fassad (R-u-F) launched w.e.f. February 22 had the aim to eliminate terrorism and safeguard the borders of the country. The press release also mentioned that Pakistan Air Force, Navy, Civil Armed Forces (CAF) and other security/Law Enforcing Agencies (LEAs) will actively participate in the efforts to eliminate the menace of terrorism from the country. The press release further stated that Counter Terrorism (CT) operations would be conducted by Rangers in Punjab and would focus on border management as well as de-weaponisation and explosive control.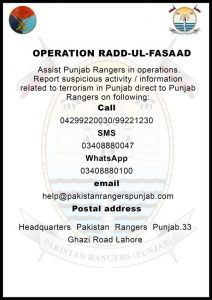 Radd-ul-Fassad means "elimination of discord" had to be initiated as an anti establishment terrorist outfit Jammat-ul-Ahrar (J-u-A) carried out several bomb blasts in the country under operation "Ghazi".
Besides enhanced terrorist activities in the country especially in Punjab, Pakistan government was also worried about the stringent measures incessantly announced by Donald Trump against terrorism and Islamic State. Pakistan administration understood that present US President has no patience and it will not allow Pakistan to continue abetting terrorism and terrorist outfits including Lashkar-e-Toiba, Jamaat-ud-Dawa or Jaish-e-Mohammed. All these Wahabi terrorist outfits preach killings of non-Muslims and establishment of Islamic regime.
Besides pressure from US and other foreign countries, Pakistan was also perturbed over the systematic approach of Indian government to expose it in world arena about its incessant assistance to different terrorist outfits.
Pakistan is being isolated and its dependence on China is increasing. Several Pakistani analysts believe that too much dependence on one country may be harmful in long run. Not only this China also threatened to close China Pakistan border as Uighur Muslims of Xinjiang autonomous region are trained in Pakistan and getting arms and ammunition from Jihadist outfits of the country.
On February 23 Pakistani law enforcing agencies arrested 45 terrorists from Rawalpindi & Islamabad, recovered 23 Improvised Explosive Devices (IEDs) and foiled a terrorist attack in restive province of Balochistan. Pakistani Rangers conducted more than 200 raids and arrested 600 suspected terrorists and killed four terrorists on February 26.
Pakistan administration alleged that the terrorists had foreign links. Finance Minister Ishaq Dar had stated in Senate that they have evidences that foreign soil was used in terrorist attacks at Lahore and Hayatabad near Peshawer. The Finance Minister also stated that Pakistan is not involved in terrorist activity in another country and it will not allow any other country to assist terrorist attacks in Pakistan. The army also attacked four terrorist camps of Jamaat-ul-Ahrar located on Pakistan Afghanistan border.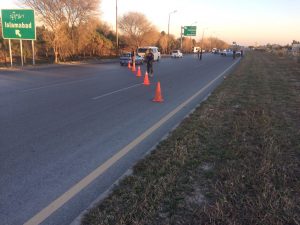 The ISPR claimed that the law enforcing agencies killed more than 100 terrorists within 24 hours of the suicide blast at Sufi shrine in Sehwan Sharif in Sindh on the basis of actionable intelligence provided by intelligence organisations. Islamic State the international terrorist outfit took the responsibility of this heinous act. Besides exterminating such a large number of terrorists the security forces also declared that they arrested several hundred suspected terrorists and seized huge quantity of arms and ammunition. The law enforcing agencies have closed borders with Afghanistan.
However the analysts doubt the veracity of the claim and ask that if intelligence agencies had information about the presence of such a large number of terrorists why the security forces delayed the action. They mention that Pakistan security forces are taking selective actions just to project to international community especially United States that Pakistani government is taking stern measures against the terrorist outfits. General Bajwa also talked to US General John Nicholson on February 17 and assured that Pakistan government is committed to take stringent action against terrorists but roots of most of the terrorist activities are in Afghanistan.
The Afghanistan diplomats in Islamabad were summoned at Army Headquarters in Rawalpindi and Pakistan lodged a stringent protest for the use of Afghan territory by terrorists for carrying out recent bomb blasts in the country. Pakistan also handed over a list of 76 "most wanted" terrorists to Afghan government and requested that these terrorists should be handed over to them. Sartaj Aziz Adviser to Pakistani Prime Minister also told on phone to Afghan National Security Adviser Hanif Atmar that Jamat-ul-Ahrar which took the responsibilities of these blasts operates from Afghanistan.
Here it will not be out of point to mention that after taking over as President of Afghanistan in September 2014, Ashraf Ghani Ahmadzai visited Pakistan where the then chief of Pakistani army Raheel Sharif called the visiting president to Army Headquarters and when President Ghani requested him to control Inter Services Intelligence (ISI) supported terrorist outfits operating in Afghanistan he refused to oblige. Pakistan which is responsible for terrorist activities in several countries of the world should stop blaming foreign hands in bomb blasts and must control diverse terrorist outfits operating in the country.
In past Pakistan launched several operations against terrorists. Operations Rah-i-Haq-I & II were launched in Swat and Shangla district in 2007 & 2008 and besides these quite a few other operations were also initiated in various parts of the country including operation Zarb-i-Azab in North Waziristan in 2014 but terrorism could not be eradicated, in fact it is increasing rapidly because the implementation of these multifarious operations were not with honest intentions.
The sinister ISI gave time to so called "good terrorists" to escape while only "bad terrorists" were killed in these operations. Therefore the terrorism became a flourishing industry in the country.
National Action Plan (NAP) which was formulated after the gruesome killing of children of Army Public School in Peshawar in December 2014 was implemented halfheartedly. The NAP recommended intelligence based operations in cities as well as in rural areas and establishment of fast-track courts so that terrorists get early punishment. Finance is the backbone of terrorist outfits but Pakistan authorities are making no genuine efforts to curb it.
Terrorism should not be eulogized and terrorist leaders like Hafiz Mohammad Saeed, Masood Azhar, Syed Salahuddin, Dawood Ibrahim etc. must be legitimately punished.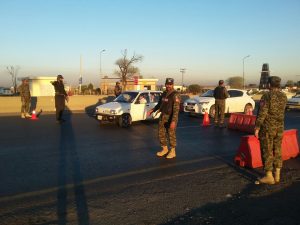 Operations with fancy names would not eliminate terrorism as they fight against the symptoms. The government should adopt long-term strategy and must try to eliminate the disease. Recognized as well as un-recognized Madrassas continued producing Islamic fanatics and the government must take stringent actions against the seminaries which are involved in spreading extremism.
Pakistan which has launched a low intensity war against India and abets terrorist outfits in Afghanistan to achieve "strategic depth" lost more than 143 persons and about 529 were injured in 22 diverse terrorist activities in February 2017 alone. These terrorist activities included explosion of February 13, outside provincial assembly in Lahore, which killed more than 14 persons and injured about 87 innocent people. In another suicide bomber blast at Sufi Shrine of Lal Shahbaz Qalandar in Sehwan on 16 February, 88 devotees were massacred and more than 350 were injured. Besides these blasts other terrorist activities also occurred at various places in different states including Punjab.
Pakistan must abandon the policy of abetting terrorism in other countries especially in India and Pakistan. The money and resources spent in fomenting troubles in other countries can be utilized in curbing terrorism in Pakistan.
(Jai Kumar Verma is a Delhi-based strategic analyst and a retired R&AW officer. The views in the article are solely the author's. He can be contacted at editor.adu@gmail.com)