By Jai Kumar Verma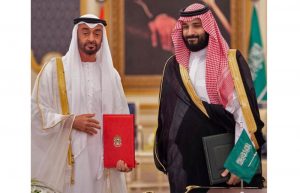 New Delhi. 30 January 2020. Saudi Arabia with the help of United Arab Emirates (UAE) is dominating the Islamic world. Both the countries are controlling the Organisation of Islamic Cooperation (OIC) and also rendering financial assistance to several needy Muslim countries to obtain their support. However, on 25 September 2019 on the side-lines of the 74th session of the United Nations General Assembly in New York, Pakistani Prime Minister Imran Khan, Malaysian Prime Minister Dr. Mahathir bin Mohamad and President of Turkey Tayyip Erdogan held a meeting. In the meeting the three leaders discussed about various methods to increase the cooperation between the Islamic countries. Besides discussing the regional and global issues, these leaders also decided to start an English TV channel, which will try to mitigate the adverse impact of Islamophobia in the world.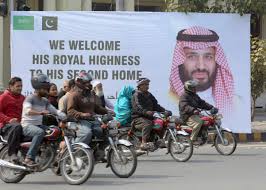 Imran Khan mentioned in a tweet that "Misperceptions which bring people together against Muslims would be corrected; issue of blasphemy would be properly contextualized; series & films would be produced on Muslim history to educate/inform our own people & the world; Muslims would be given a dedicated media presence." The dedicated TV channel would set the record straight on Islam and it will fight against the increasing Islamophobia. Nevertheless, the critics claim that there are already several Islamic TV channels, but the Islamophobia is increasing. Only TV channel cannot overcome the proliferating anti Islam phenomena.
Initially, the foreign ministers of Pakistan, Malaysia and Turkey met in May 2019 in the side-lines of the 14th OIC Summit in Jeddah and decided to hold a trilateral summit meeting in New York at the time of UNGA session.
Saudi Arabia avoided to attend the Kuala Lumpur Summit 2019 because Riyadh assumed that it will be diplomatically isolated as the summit was attended by its adversaries including Iran, Qatar and Turkey. Riyadh also mentioned that the summit would weaken the OIC which is a much bigger group of Islamic countries. In fact, President Erdogan has challenged the leadership of Saudi Arabia and he wants to emerge as the leader of Muslim world. Yousf al-Othaimeen Secretary General of OIC also mentioned that as the summit was not under the aegis of OIC it is against the interest of Islamic world and it will weaken the Muslims.
As Saudi Arabia was averse to the idea of Kuala Lumpur Summit, the Minister of State for Foreign Affairs of Saudi Arabia Adel bin Ahmed Al Jubeir visited Pakistan for a day in September 2019. During his sojourn in Pakistan he met the top leadership of Pakistan including army chief General Qamar Javed Bajwa, Prime Minister Imran Khan and Foreign Minister Shah Mehmood Qureshi. The ostensible purpose of the visit was to review and discuss the situation in the region especially in Kashmir after defanging of article 370 by India. Saudi Arabia renders financial assistance to impecunious Pakistan and recently Riyadh gave few billion dollars to Islamabad as the country is undergoing a grave financial crisis.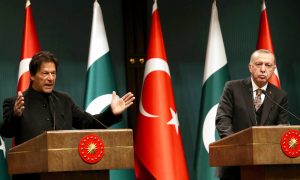 Turkish President Recep Tayyip Erdogan (R) and Pakistani Prime Minister Imran Khan
The covert motive of the visit, which came after Imran Khan talked thrice to Saudi Crown Prince Mohammed bin Salman (MBS) was to discourage Pakistan from attending Kuala Lumpur Summit. Imran Khan also formally accepted to attend the summit on November 29, when Malaysian Deputy Foreign Minister Marzuki Bin Haji Yahya called on him in Islamabad. However, after Imran Khan's visit to Saudi Arabia in December 2019 it became clear that Pakistan will not participate in the summit. Imran Khan tried to convince MBS that the forthcoming Kuala Lumpur Summit was neither against Saudi Arabia nor contrary to OIC, but MBS was not convinced, and Imran Khan was told not to attend the summit. Saudi Arabia and United Arab Emirates dominates (OIC) feel that this summit would divide the Ummah.
Turkish President Erdogan mentioned that Islamabad had not attended the Kuala Lumpur Summit 2019, which occurred from 18-21 December, under pressure from Saudi Arabia. The summit besides others was attended by Malaysia, Turkey, Iran and Qatar. Imran Khan's refusal to attend the summit after he accepted it, was a great embarrassment for the country. Pakistan mentioned that it had not attended the summit as it wants to maintain the neutrality. Islamabad also disregarded the reports that there was institutional dissension in the country about attending the summit. Saudi Arabia also dismissed the reports that it pressurised Pakistan for not attending the summit. Recently both Saudi Arabia and UAE extended financial assistance to debt-ridden Pakistan. Millions of Pakistanis work in both these countries and they remit more than $9 billion dollars to their motherland every year. At present Pakistan also needs assistance from Turkey and Malaysia, as both these countries helped Islamabad, when the 39 members Financial Action Task Force (FATF) was downgrading the country to 'backlist' from the 'grey list'. FATF had five-day plenary session in Paris in October 2019, where the global watch dog FATF observed that Pakistan full filled only five points out of 27 points hence it should be downgraded to 'blacklist'. However, Malaysia and Turkey along with China rescued Pakistan from downgrading to 'blacklist' and the FATF gave four months to Islamabad to comply its stipulations. These four months will be over in February 2020 and at that time Islamabad will again need help from three countries including China, Malaysia and Turkey so that it does not downgraded to 'blacklist'.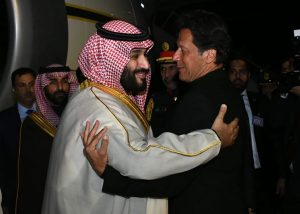 Hence on one hand Pakistan wants to keep Saudi Arabia and UAE happy so that it receives financial assistance from them. On the other hand, it also wants that Malaysia and Turkey should continue helping Islamabad so that FATF cannot downgrade it to 'blacklist.' Both these countries also spoken in favour of Pakistan and raised Kashmir issue in United Nations. Both these countries also criticised India on Kashmir which Pakistan media highlighted. Turkey and Malaysia also want to have cordial relations with Pakistan, as it is an important Muslim country.
Now Erdogan would visit Pakistan in February 2020 and Prime Minister Imran Khan will visit Malaysia along with a high-level delegation from 3rd February to 4th February.  Besides meeting Malaysian Prime Minister, Pakistani Prime Minister and members of his entourage will also meet other important leaders. Imran Khan last visited Malaysia on 20th November 2019. The basic purpose of the visit is to placate Mahathir as he was annoyed because Imran Khan withdrew from the Kuala Lumpur summit at 11th hour. Imran Khan also spoke Mahathir on phone after withdrawing from the summit. In the telephonic conversation Imran Khan mentioned that he will visit Malaysia afterwards and will narrate the reasons for not attending the summit.
Turkey is an old friend of Pakistan and both Turkey and Malaysia have openly supported Pakistan on Kashmir issue. Both these countries stood with Islamabad and took the risk of displeasure of India. On the other hand, Saudi Arabia, UAE, and other members of OIC strengthened their strategic and trade ties with India. Saudi Arabia which dominated the Muslim world is averse to the idea of this summit as Turkey and Malaysia are trying to lead the Muslim world. Saudi Arabia besides financial assistance to Pakistan also agreed to hold OIC Summit centring on Kashmir. Pakistani media later announced that OIC summit would be held in Islamabad in April 2020.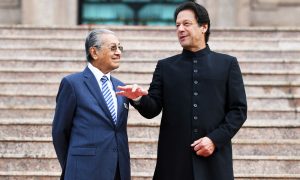 Malaysia's Prime Minister Mahathir Mohamad (L) listens to his Pakistani counterpart Imran Khan
The outspoken Dr. Mahathir also mentioned that Malaysia was able to reduce the contract cost of the East Coast Rail Link (ECRL) by RM 20 billion. The contract of construction of ECRL was awarded to Chinese companies. He also stated that other Chinese debt-ridden countries would also try to reduce the borrowings from China. He also mentioned about the crisis of Rohingya Muslims and claimed that Myanmar government is not taking any action to stop the genocide of Rohingya Muslims. He told that he also wrote a letter to Myanmar State Counsellor Aung San Suu Kyi about extermination of Rohingyas in Rakhine State, but she had not replied the letter. He also maintained that UNO failed to defend the oppressed and exploited persons by the brutal regimes.
External Affairs Ministry spokesperson Raveesh Kumar criticised the statements of Turkish President Recep Tayyip Erdogan and Malaysian PM Mahathir Mohamad in UN General Assembly on Kashmir in support of Pakistan. Raveesh Kumar mentioned that their statements are biased, and both the leaders spoke without understanding the ground situation hence they should avoid making such comments in future. MEA spokesman asserted that Jammu and Kashmir ruler signed the Instrument of Accession in favour of India while Pakistani forces invaded J&K and illegally occupied parts of the state. Kumar also contradicted Turkish president statement on Kashmir. Malaysia and Turkey ae the only two countries which extended open support to Pakistan on Kashmir issue.
At present, Pakistan is exploiting the rivalry between Saudi Arabia and Turkey as both want to dominate the Islamic world. It is getting financial assistance from Saudi Arabia and UAE while Turkey and Malaysia are helping it in FATF and raising Kashmir issue in international forums. However, Islamabad must strengthen itself and make sincere efforts to comply with FATF conditions so that it is not downgraded to 'blacklist'. Pakistan cannot survive for a long time on external assistance hence it must implement economic reforms so that its economy improves.
Note: Jai Kumar Verma is a Delhi-based strategic analyst and a retired senior intelligence officer. He is also member of United Services Institute of India and Institute for Defence Studies and Analyses. The views in the article are solely the author's. He can be contacted at editor.adu@gmail.com)