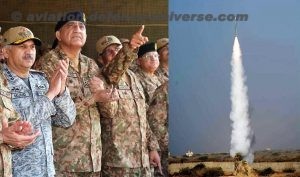 New Delhi. 10 January 2019. It is just uncanny! The day Indian Army's Air Defence Corps celebrates its 26th Raising Day India's western neighbour displayed its fire power capability at Air Defence firing ranges near Karachi. And just to prove an imaginary one-upmanship Pakistan did this by firing all air defence weapon systems at the culminating event of two weeks long Exercise Al Bayza-2019.
Pakistan Army fired the recently inducted Long Range Air Defence Weapon System LY80 for the first time. Induction of LY-80 has realized the concept of a comprehensive, layered and integrated air defence capability with enhanced lethality, feels Pakistan. LY-80 is a Medium range SAM system made by China and Pakistan already has 5 batteries in service. It plans three regiments comprising 9 batteries which are ordered.
Pakistan Army also recently inducted A-100 Rocket in Multiple Launch Rocket System (MLRS) for its Corps of Artillery. A- 100 Rocket has been indigenously developed by Pakistani scientists and engineers. With over 100 kilometers range the Rocket is a highly effective and potent for interdiction that can effectively disrupt enemy's mobilization and assembly feels Pakistan Army.
Pakistani Chief of Army Staff (COAS) General Qamar Javed Bajwa and Chief of Air Staff (CAS) Air Chief Marshal Mujahid Anwar Khan witnessed the firepower display. Interacting with the officers and troops, COAS congratulated Army Air Defence for successful conduct of firepower capability display. COAS said that LY 80 has greatly enhanced air defence capability of Army Air Defence while strengthening it at National level along with PAF, the overall custodian of the defence of Pakistan air space. CAS Air Chief Marshal Mujahid Anwar Khan also congratulated Pak Army for induction of LY 80 which has reinforced Pakistan's overall Air Defence capability.
Commander Karachi Corps, Commander Army Air Defence Command and number of other senior commanders and principal staff officers also witnessed the event.