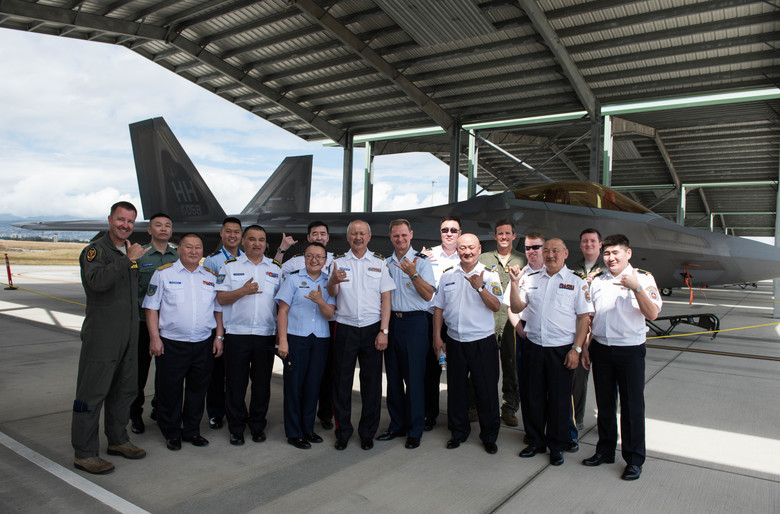 Hawaii. 11 April 2019. Pacific Air Forces hosted a delegation from the Mongolian Air Force Command for Airman-to-Airman talks recently.

The multi-day event marked the first A2A talks between the U.S. and MAFC, a newly separated branch of the Mongolian Armed Forces.

A2A talks are jointly held discussions between the U.S. and partner nation air forces designed to bolster relations and provide an opportunity to share best practices from a variety of subject matter areas.

"As we launch our inaugural Airman-to-Airman talks, I hope we will use this venue to ultimately build and develop a solid roadmap for future engagements, exchanges and activities," said Maj. Gen. Russ Mack, PACAF deputy commander. "I look forward to fruitful and candid discussions from both sides that will positively shape our military-to-military relationship."

The bilateral delegation of more than 20 Airmen, led by Mack and MAFC commander Brig. Gen. Enkhbayar Ochir, discussed initiatives to improve readiness and effectiveness to respond to real-world challenges.

The delegation represented experts from a variety of specialties, to include safety, personnel, maintenance and logistics.

"This has been very great to talk, not just (at) the leadership level, but at the action officer and the subject matter expert level. My expectation in the future would be to expand the subject matter experts and the specialties we discuss," Ochir said. "We understand the support we will be able to help in the safety and security of the Indo-Pacific region through our Mongolian operations and exercises."

The next U.S.-Mongolia A2A talks are scheduled to be hosted in Mongolia. The talks allowed the delegation to reflect on shared interests and a common history.

"The journey of 1,000 miles starts with a few steps," said Brig. Gen. Jeffrey R. King, PACAF Logistics, Engineering and Force Protection director. "When our Air Force separated from the Army in 1947, many asked why we did it. Our first three decades were marked with organizational changes. For us, technology drove our success as an Air Force. We are happy to share our experiences as (the MAFC) continues to grow and develop."

In addition to A2A talks, the U.S. and MAFC have participated in previous iterations of Silver Flag and Pacific Unity.

"We are very grateful this key event has happened today to prepare for future enriched events that will strengthen our relationship," Ochir said. "I would like to give my gratitude on behalf of every airman in the Mongolian air forces for this warm welcome we received."

PACAF engages in a number of A2A talks with ally and partner nations to continue to build strong relationships in support of a free and open Indo-Pacific region.