New Delhi. 28 September 2020. Chemical, Biological, Radiological and Nuclear (CBRN) are components of un-conventional warfare & are also known as weapons of mass destruction (WMD). Defensive and Protective measures taken to mitigate CBRN warfare hazards need specially designed clothing & equipments.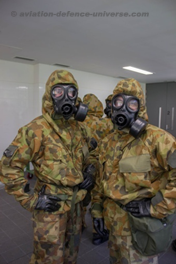 OshoCorp Global successfully completes one of its largest supply orders of CBRN Individual Protection Equipments (IPE) sets to Defence PSU, Bharat Electronics Limited (BEL) during the ongoing Covid-19 pandemic.
Ashutosh Khate, Director explained that OshoCorp's CBRN IPE set consist of 6 major protection components (CBRN Suit, Protective Full Face CBRN Mask, CBRN Air filter Canister, Protective CBRN Hand Gloves, CBRN Overboot & Protective Carrying Bag), giving protection to our soliders from head to toe.
OshoCorp in the past also successfully won & completed CBRN IPE sets and Detection Sensors orders from BEL, ECIL and other govt. agenies under MoD in the country, in face of competion from domestic and global suppliers.
OshoCorp Global Pvt Ltd is a DIPP certified defence StartUp with NCAGE No. 1691Y (NATO) & is an ISO 9001:2015 certified, in receipt of multiple Defence Industrial License's (DIL) from Govt of India for manufacturing Restricted & Sensitive Defence Systems.