Gaia 100 is the first Orbit 3.7m Earth Observation Ground System to include S, X and Ka-band frequencies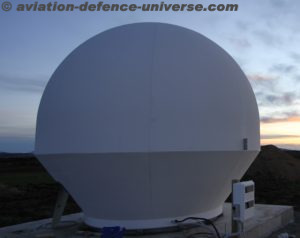 Tel-a-Viv. 10 August 2022. Orbit Communications Systems Ltd. a provider of maritime and airborne SATCOM terminals, tracking ground station solutions, and mission-critical airborne audio management systems – has announced the launch of Gaia 100 – an advanced tri-band Earth observation antenna system – with an initial order secured from a significant European customer.
Now with a new Ka-band capability in addition to the existing S-band and X-band capabilities, the Gaia100 S/X/Ka is the most innovative system available today, tracking practically any EO NGSO satellites, and giving the operator the flexibility to work in all three frequency bands simultaneously. This meets the growing demand in the observation satellite and Ground Station Antenna as a Service (GSAAS) operators markets for systems capable of downloading a large amount of high-quality and high-volume data from Earth Observation (EO), Low Earth Orbit (LEO) and Medium Earth Orbit (MEO) satellites.
"Ka-Band is becoming more and more essential for high-volume data delivery and in the near future it is expected to become the main frequency band for data download," says Daniel Eshchar, CEO of Orbit. "As a company that constantly develops innovative solutions, we are proud of our ability to already provide a response to the ever-increasing needs of the market. Our reputation for advanced solutions is already proven in the first order from a European customer, a growing leader in its field of providing global observation services, which is expanding its infrastructure to supply EO services and launches. They selected Orbit due to our track record of excellent performance and very high reliability in our world-leading systems. Our position as an industry leader in the field of EO satellite tracking and in the terrestrial satellite communication market strengthens our activities as we maintain our technological advantage and develop more advanced systems."