By Brig. (Retd.) Vijay Atray, New Delhi.

On Sep 5, 2015 Manohar Parikar , The Defence Minister of India announced OROP for the defence Veterans & Widows.
The Defence forces have been demanding OROP for the last four decades or so. The basic issue being that a retired defence personnel should get the same pension as drawn by his present counterpart in the armed forces – for the similar rank and same length of service. This was because the old pensioners and widows have been getting pea – nuts in the name of pension. With the inflation looming large their problems have compounded.
' Manusmriti ' the beacon of Indian Civilization has the following to say regarding the welfare of defence personnel of any nation :-
"Rajashch dadyurudhwarmityesha vediki shrutih,
Raja cha sarvayodhebhyo datvyamprithgjitam ".
Its essence is that any king or head of state should distribute 1/16 th. of its revenue ( collected from victories ) amongst her soldiers. In addition he should especially take care of war widows and orphaned children of the soldiers. When these children grow up, they should be suitably employed .
Manusmriti also dictates that any head of state who aspires to keep his state secured, developed, distinguished, triumphant & peaceful should never break this principle.
Since many committees set up by various governments, especially the Koshiari Committee and resolutions to grant the OROP in the Parliament both by the congress and BJP led governments did not fructify, the servicemen started an agitation at the famous "Jantar Mantar" New Delhi, on 15 Jun 2015. Many ex servicemen organization came together. It started with relay hunger strike with an average of 21 ex servicemen on hunger strike every day, which is still continuing. When the agitators got no positive response from the government, it took a turn to "fast unto death" on 16 Aug, 2015. This swelled to 13 ex servicemen including officers .Being of advanced age, condition of some deteriorated and they had to be shifted to the Army Hospital ; still they continued to fast under medical supervision. However, it is worth a mention that despite deteriorating health one of first agitators viz Havildar Major Singh did not agree to be shifted to the hospital.
The agitation had a multiplier & cascading effect and such agitations were organized by ex servicemen at 65 places in the country. The Bihar elections were due and BJP wanted to show that they believe in delivering justice and alleviate the problems faced by the masses. As such on 05 Sep, 2015 the government declared OROP unilaterally. However, the pensioners do not seem to be satisfied with "what was delivered " to "what was promised" to them at various platforms.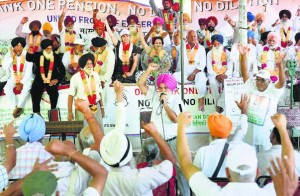 Though on 05 Sep, 2015 when the Defence Minister announced the OROP "Fast unto Death" veterans were requested to end their fast , but the relay fast continues – even today.On interacting with the agitators, it is revealed that the OROP declared by the government has many anomalies.
The major ones are:-
Annual Equalization –  This is the very core of OROP in order to ensure that no senior ever gets less pension than a junior. This can't be ignored by making equalization after every five years, which would totally defeat the definition of OROP. This inter alia would result in ' one rank five pensions' and not' one rank one pension'.
Pre-mature retirees-The confusion about the OROP for pre-mature retirees still persists, despite the Prime Minister having clarified it in Faridabad on 6th September.
Average of Pay Scales – The Defence Minister had earlier assured that pensions would be calculated from "top of the pay scales" whereas now, the government seems to have gone for an "average of top and bottom of pay scales". This formula would drastically reduce the pensions of JCO's, OR and widows, who will hardly get an increase in their pensions.
Independent of Central Pay Commissions –  This is a concept which is to be executed in perpetuity. It is pertinent to mention that the "Pay Commissions Award" must integrate the OROP and should not adjucate on it.
Base Year – After having agreed to FY '13-14', the government has now gone to middle of calendar year '14, for the implementation of OROP. The government is trying its best to woo the armed forces to see their point of view, such as organizing a grand golden jubilee celebration of 1965 war !
It is in the interest of any nation to keep its armed forces appeased so as to keep their morale high. Especially, when you have adversaries lurking around your sensitive borders, who are looking for crevasses in your policies so as to create dissension in the rank and file.