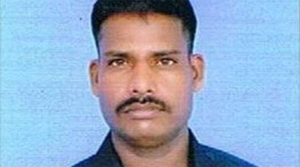 New Delhi. 10 February,2016. The February 3 avalanche on the Siachen glacier at a post on the northern part of the glacier, at a height of 19,600 feet buried 10 soldiers of 19 Madras Batallion is a stark reminder to both India and Pakistan about the cost of military deployment in such inhospitable territory.
About 150 soldiers, two rescue dogs — Dot and Misha — and some sophisticated radars were part of the heroic rescue efforts at Siachen since February 3, when an ice wall broke off and fell on the Army post located at 19,500 feet in northern glacier. The debris covered an area of 800 x 1000 metres with a depth of 25 to 30 feet, some of the boulders as big as a small room.
Over 150 soldiers, including specialised rescue teams, began round-the-clock search operation in Siachen, where the day temperature was an average of -30 degrees Celsius and night temperature fell to around -55 degrees Celsius The military airlifted rock drills and electrical saws to break the blue ice that is harder than concrete.
The bodies of 9 soldiers of the 19 Madras Regiment have been recovered . Lance Naik Hanumanthappa Koppad of 19 Madras Regiment was rescued alive on Monday night, five days after their camp was struck by a massive avalanche that killed nine of his colleagues
Health bulletin issued by Army Hospital Research and Referral (R&R) in New Delhi on 09 Feb states :–
"L/Nk Hanamanthappa K of 19 MADRAS, was buried under 35 ft of ice and snow at 20500 ft for five days since the avalanche at Siachen on 03 Feb 16. He was rescued from the site on 08 Feb 16. On recovery, he was found to be conscious but drowsy and disoriented. He was severely dehydrated, hypothermic, hypoxic, hypoglycemic and in shock. He was immediately resuscitated by the doctors at the site, who had been there for the past five days in the hope of a survivor.
He was treated with warm intravenous fluids, humidified warm oxygen and passive external re warming. He was flown out from the site on 09 Feb 16 by helicopter along with a Medical Specialist to the Siachen base camp, from where he was brought to the Thois air base. He was then transferred to Delhi by a fixed wing aircraft of the IAF along with a Critical Care Specialist of the IAF and Medical Specialist from the Siachen Base Camp.
He is currently comatose and continues to be in shock with low blood pressure. He has pneumonia and his investigations have revealed liver and kidney dysfunction. Fortunately there was no cold exposure related frost bite or bony injuries to him. He is being treated by a team of intensivists, neurologist, nephrologist, endocrinologist and surgeons. He has been treated with fluids, drugs to bring up his blood pressure and antibiotics. He has been placed on a ventilator to protect his airway and lungs in view of his comatose state. He remains extremely critical and is expected to have a stormy course in the next 24 to 48 hrs due to the complications caused by re warming and establishment of blood flow to the cold parts of the body".
The President Pranab Mukherjee in a mesage to the Chief of the Army Staff mentioned "I am happy to know that Lance Naik Hanumanthappa has survived the avalanche on Siachen Glacier of February 3, 2016. I applaud his indomitable spirit and ability to endure adverse conditions.Lance Naik Hanumanthappa`s will power and courage to fight all odds is truly an example to all others. I join the people of our country in praying for his early and speedy recovery,"
Prime Minister Narendra Modi, along with Army Chief Gen Dalbir Singh, had visited the soldier at the hospital earlier today."No words are enough to describe the endurance & indomitable spirit of Lance Naik Hanumanthappa. He is an outstanding soldier. We are all hoping & praying for the best," the Prime Minister`s Office tweeted.
Defence Minister Manohar Parrikar extended prayers to "Naik Hanamanthappa who miraculously survived the avalanche at Siachen".
Army Chief General Dalbir Singh spoke of the soldier's indomitable mental robustness and his refusal to give in to the harsh elements.
Hanumanthappa's mother is confident that he would survive. She said "He came to me in my dream, stood beside me and told me that he will return. I prayed to my family deity, took a vow and she [the goddess] has saved my son".
Siachin has had more casualties due to inclement weather rather than the bullets.
Readers may recall that on 7 April 2012, an avalanche hit a Pakistani military base in Gayari Sector, near the Siachen Glacier region, trapping 140 soldiers and civilian contractors under deep snow The incident occurred at an altitude of about 13,000 feet and 180 miles northeast of Skardu (capital of Baltistan). It was the worst avalanche that the Pakistani military has experienced in the area. On 29 May 2012, Pakistan declared that the 129 soldiers and 11 civilians were dead.
At this moment every army unit should pray in their temples, mosques , gurudwaras  & churches for the second miracle to happen .Let the grateful nation  also  join the soldiers in this humane effort.