21st national oil spill disaster contingency plan meeting held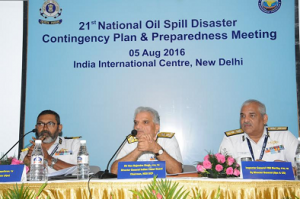 New Delhi. Indian Coast Guard in another first launched the 'Online Oil Spill Advisory (OOSA) software'. The software, which has been indigenously developed by Indian National Centre for Ocean Information Services (INCOIS), in consultation with the ICG, will facilitate in prediction of Oil Spill Trajectories and can be utilized by all NOS-DCP stakeholders for planning Mock Drills, exercises and PR Operations.
The software also facilitates a SMS facility for fishermen on "Potential Fishing Zone Advisory" and "Fish Avoidance Zone" in the event of an oil spill. This was done at the 21st National Oil Spill Disaster Contingency Plan (NOS-DCP) and preparedness meeting.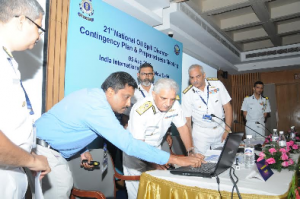 Director General Rajendra Singh, PTM, TM, Director General Indian Coast Guard (DGICG), Chairman NOS-DCP, chaired the meeting, which was attended by Senior Officers of the Indian Coast Guard (ICG), and delegates from various Ministries, Departments of Central and State Governments, Ports & Oil Handling Agencies.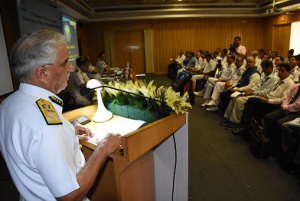 During the meeting, the national capabilities with the common aim to ensure collective preparedness to respond to any oil spill contingency in Indian waters was reviewed.  DG Rajendra Singh appealed to all the maritime stake holders to contribute their best towards "Cleaner Seas", a way towards "Swachh Bharat Abhiyan", by keeping the marine environment clean and litter-free.