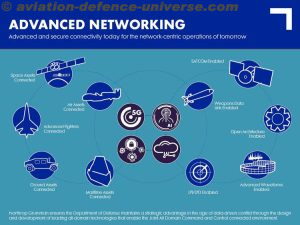 San Diego. 18 January 2023 . Northrop Grumman Corporation, AT&T* and Fujitsu recently demonstrated 5G-enabled intelligence, surveillance and reconnaissance (ISR) capabilities in Northrop Grumman's new 5G lab. The demonstration integrated radios with Northrop Grumman's tactical data links, AT&T's private 5G network and Fujitsu's Open Radio Access Network (O-RAN) to transmit ISR data and video, proving our strength in connecting the battlespace. This is a critical step in building the digital battle network to support multi-domain operations.
"This critical capability will bring together the high speeds, low latency and cybersecurity protections of private 5G networks with the flexibility and scalability of commercial 5G capabilities," said Ben Davies, vice president and general manager networked information solutions division, Northrop Grumman. "Enabling 5G connectivity for our warfighters across domains will help realize a connected battlespace for the joint force."
Last spring, Northrop Grumman and AT&T established a joint research and development agreement to build a digital battle network powered by AT&T's commercial 5G network and Northrop Grumman's robust portfolio of capabilities that are at the forefront of military technological advancement to enable the joint force.
"This demonstration showcased the benefits of commercially available 5G for the Department of Defense and the open, standards-based technologies that we're exploring and developing as leaders in the O-RAN Alliance," said Lance Spencer, client executive vice president, defense, public sector, AT&T.
"Open RAN is accelerating 5G innovations to deliver high-speed, low-latency requirements for mission-critical applications," said Greg Manganello, senior vice president and vice head of the 5G mobile systems business unit at Fujitsu. "Our collaboration with Northrop Grumman and AT&T highlights the benefits of the ecosystem underpinning of Open RAN, enabling new configurations of mission-critical communications networks."
The collaboration between Northrop Grumman, AT&T and Fujitsu is designed to drive innovation at speed to deliver a cost-effective, scalable, open architecture solution for the DoD. This approach can enable rapid deployment of new capabilities and shorten the decision-making timeline in a multi-domain, contested environment – a key component in laying the foundation for Joint All-Domain Command and Control.