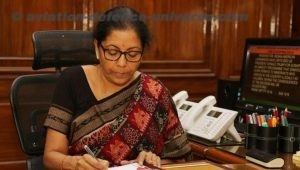 New Delhi. 07 September,2017. Nirmala Sitharaman took over charge as Defence Minister. On her arrival at the Ministry of Defence in South Block, she was received by outgoing Defence Minister Arun Jaitley, Minister of State for Defence Dr. Subhash Bhamre, Defence Secretary Sanjay Mitra, Defence Secretary (Defence Production) , AK Gupta, Chairman DRDO & Secretary Department of Defence R&D Dr. S Christopher and other senior officials.
Sitharaman is the first full time Woman Defence Minister of India. Immediately after assuming office, the Defence Minister approved a grant of over Rs 13 crore which will be released for 8685 ex-servicemen, widows and dependants out of the Armed Forces Flag Day Fund. She also approved financial assistance out of Raksha Mantri Ex-Servicemen Fund.
Nirmala Sitharaman was born on 18th August 1959 in the temple town of Madurai, Tamil Nadu. She did her schooling and her graduation in Economics, from Seethalakshmi Ramaswamy College in Tiruchirapalli. She went on to do her Masters in Economics from Jawaharlal Nehru University, New Delhi. Indo-European Textile Trade was the focus of her draft Ph.D thesis.
She served as an assistant to Economist in the Agricultural Engineers Association, UK in London. She subsequently worked as Senior Manager (Research and Analysis) with Price Waterhouse, London. During this time she also briefly worked with BBC World Service.
On her return to India, she served as Deputy Director of the Centre for Public Policy Studies at Hyderabad. Her interest in education led her to lay the foundation of 'Parnava', a reputed school in Hyderabad. She was a member of the National Commission for Women from 2003-2005 and instrumental in voicing various issues of women empowerment.
Sitharaman was inducted in the Union of India's Cabinet in a Government led by Prime Minister Shri Narendra Modi on 26 May 2014 as the Minister of State (Independent Charge) for Commerce and Industry.