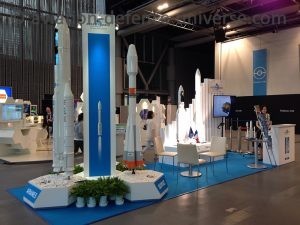 Versailles, 21 July 2017. Nexter signed a contract for the development of new generation opto-pyrotechnic detonator for the Ariane 6 program.
Developed by the Nexter Munitions centre in Tarbes, France, the Opto-pyrotechnic detonator represents a completely new technological approach in the field, using a light energy source instead of an electric current.
The use of fibre optics for the detonators instead of copper conductors, allows easy integration into complete structures, considerable weight saving, but also makes the device resistant to any electromechanical attacks. These initiator devices enable triggering of launcher equipment, notably to ignite solid propellant and booster separation engines.
Vincent Ginabat, Chairman and CEO of Nexter Munitions, said he was "very proud to be able to
supply high technology applications guaranteeing access to space. This contract solidifies and ensures
a long-term partnership between Nexter Munitions and ArianeGroup." Ariane 6 is a programme of ArianeGroup, design authority and industrial manager of the launcher,
under the European Space Agency (ESA).
Most of this product family complies with NATO standards. Nexter Munitions is a recognized partner of European missile manufacturers in the production of warheads, safety and arming devices, pyrotechnic components, and IM (Insensitive Munitions) technologies and related charges.
The product family includes 155mm and 105mm ammunition (and 100mm naval) for artillery systems, 120mm and 105mm ammunition for battle tanks, 90mm ammunition for armoured vehicles and 40mm, 30mm, 25mm and 20mm ammunition for lightweight vehicles and guns onboard aircraft, helicopters and ships.