Research by Oxford Economics has revealed the extent to which BAE Systems contributes to the UK economy through jobs, research & development and national supply chains.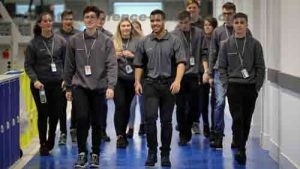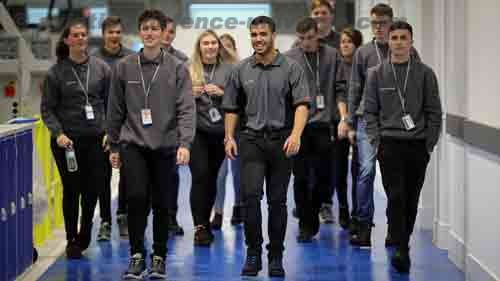 Farnborough. 14 January 2022. In addition to developing skills and technologies critical for the defence of the nation, the research highlights that BAE Systems' operations are helping to drive increased productivity and support the Government's levelling up agenda.
The Company's significant UK footprint across more than 50 sites and extensive supply chain mean that in 2020, it supported 143,000 jobs across the country and contributed more than £10 billion to UK GDP, equivalent to 0.5% of the domestic economy.
Data published in the 'BAE Systems' contribution to the UK economy' report, shows that in addition to the Company's own 35,300 highly skilled UK employees, nearly 59,000 jobs are supported across the supply chain with more than 49,000 jobs supported through employee and supplier spending.
The Company has 5,000 UK suppliers from Scotland to the south west of England who benefitted from £3.8 billion worth of spend in 2020. With more than 40% of its employees based in the UK's most deprived local authorities, BAE Systems also spent £700 million with companies in these areas, making a significant impact to the local communities where it operates and playing a key role in 'levelling up'.
More than two-thirds of the Company's UK employees are in engineering-related roles and the research found that the highly skilled and technical nature of their work results in an average productivity of £83,000 per employee. That's 17% higher than the UK manufacturing sector and almost 30% higher than the average across the whole economy.
To ensure a robust pipeline of talent for the future, the Company invested £93 million in skills, training and development activities in 2020. That included more than 2,000 apprentices and nearly 600 graduates in training across a wide range of roles from electronics and electrical, structural, software and research engineers, to manufacturing, operations and project management. Continuing its support for young people, BAE Systems will this year recruit almost 1,700 apprentices and graduates across the country – 25% up on last year and the largest intake it has offered in a single year.
As well as investing in people, BAE Systems continues to invest in research and development, self-funding more than £100 million of research in the UK and being the ninth largest patent applicant in the UK. The Company also delivered more than £1.1 billion of research activity on behalf of the UK Government, helping the country to drive technological innovation.
The global nature of BAE Systems, which has operations in Europe, the Middle East, Asia, Australia and the US means that the Company was able to export £3.9 billion worth of goods and services from the UK – equivalent to 0.7% of all UK exports in 2020.